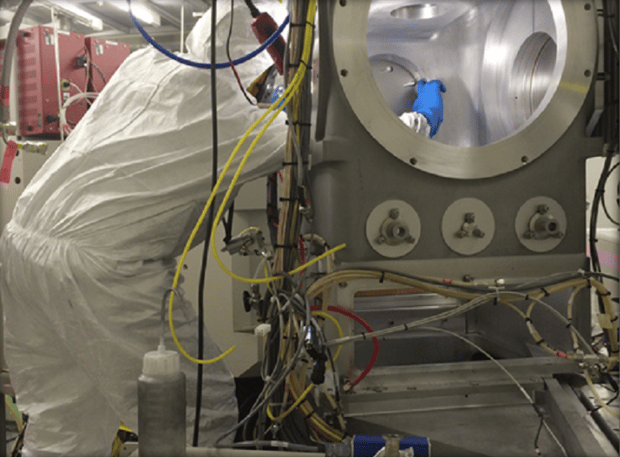 Machinery relocation is a major undertaking: One that requires careful planning if everything is to work on budget and on time. From carrying out site surveys and planning the machine de-installation to arranging transport and logistics, there are hundreds of decisions to be made, each with a potential impact on the next.
Besides that, some machines need special attention. One of them is the ion implanter - used in semiconductor device manufacturing for doping semiconductor wafers - which is hugely complex and challenging to move.
There is a raft of health, safety, environmental considerations, as well as government legislation to adhere to, when moving ion implanters. They need to be properly decontaminated before they're moved. If it's not handled professionally, it could land you with significant financial and legal troubles.
To find out more about ion implanter decontamination and the process, we spoke to one of IES's senior engineers, James Lennon.
What is ion implanter decontamination?
Over time, any machine with hazardous toxics running through it will build up a residue of the chemical around its inner chambers. In ion implanters - where semiconductor doping occurs - this residue includes arsenic, phosphorus and boron. Exposure to boron alone can cause skin inflammation and peeling, irritability, tremors, convulsions, vomiting, and more. In short, it's highly toxic. All these chemicals need to be handled before we can move an ion implanter.
Decontamination is simply the process of removing the residue of these toxic chemicals from all areas of the machine.
Why is decontamination crucial?
The legislation around contaminated machinery is incredibly stringent, and understandably so given the materials involved. Improperly cleaned parts can be toxic, highly flammable or combustible, explains James.
"The phosphorus that's found inside ion implanter machines can form into a hard, flammable layer on the inside of chambers," says James. "Much like a match, if that layer was to be struck during transport, it would be likely to catch fire."
Leaving aside crucial health and safety issues, there are also financial and logistical considerations to decontamination. "If a piece of equipment hasn't been decontaminated, it can't be shipped," James says. "I've been in Singapore before, waiting for a machine to arrive, only to get a call saying it isn't coming because customs have stopped it due to issues around contamination. That's the whole move process delayed. And at a serious cost."
So, decontamination is undoubtedly essential. But what does 'great' look like? And how do you know your relocation team is doing a good job?
How decontamination works
Ion implanter decontamination is a labour intensive process that follows a meticulous regime to ensure the strictest safety standards.
Before commencing, a full list of toxins will be provided for review and risk assessment, after which the correct methods are decided. After donning hazmat suits and breathing equipment, the decontamination team first locks and tags out electricity and purge any gases still contained in the location.
Next is the stripping process, in which internal contaminated components are removed piece by piece until only the main chamber remains. At this point the removed parts are double-bagged and sent to a cleaning facility, while the machine chambers are cleaned by hand, using specialist chemicals - including deionised (DI) water and diamond pads - to scrub all toxins from the machine.
"We've tried all different ways of removing residue, even battery-powered rotational drill heads," says James. "But nothing works quite as well as a little elbow grease."
Once the process is complete, sample areas from around the machine are swabbed and the swabs sent to a laboratory for analysis, to ensure toxins are sufficiently removed.
Key considerations and mistakes
While few people would doubt the importance of safety precautions during decontamination, the margin for error is smaller than many may appreciate. When transporting parts, for instance, the exact thickness of a bag or oil drum can make the difference between safe passage or contaminating the environment. The correct type of packaging is outlined in the Hazmat Regulations.
Similarly, anybody involved in the process has to be professionally trained in understanding the chemicals present, their properties and how to handle them. The procedures around decontaminating arsenic as opposed to phosphorous, for instance, are different, and getting it wrong could endanger all involved, not to mention the environment.
How we do ion implanter decontamination at IES
IES runs all decontamination work through a strict procedure, to ensure that every job is completed safely and to legislated standards. Communication is key, says James, so that people on both sides of the decontamination process understand what's expected and how to stay safe.
"We always check that clients have the correct cleaning facility and correct waste disposal systems for any contaminated wipes and waste. After that everything can be done methodically. Every member of our team follows the same process, from gearing-up and stripping the machine down, to cleaning and sampling at every step. We know the drill and how to get it done right."
There are many detailed stages to factory relocations. To help you dodge the pitfalls that come with each of them, IES can provide a complete factory relocation project plan that covers everything from risk assessments on both your existing and new locations, to on-site supervision, documentation and packing.
For more information on our equipment movement process, visit our Factory Relocation page or get in touch with the team via the contact form