The last two years have acted as a perfect demonstration for the constant levels of innovation and the need to react quickly to change that is faced by the pharmaceutical industry. With the pharmaceutical industry seeing a huge market change coming from Coronavirus, 2020 saw UK consumers spend £2.65 billion more on pharmaceutical products than in 2019.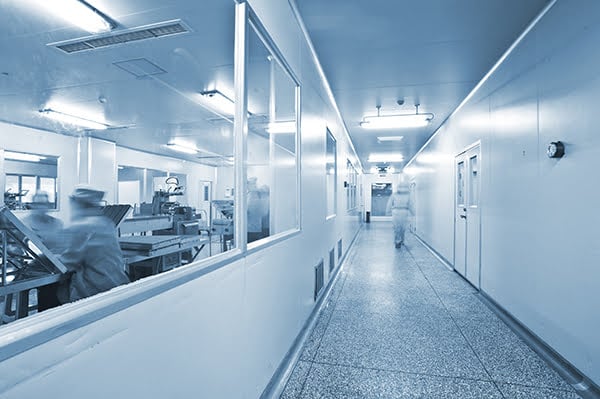 To cope with such an increased demand and changing needs, pharmaceutical companies must grow and develop their business'. Whether that be upgrading their current medical manufacturing equipment or a full site relocation to accommodate for greater rates of production. That's where we step in, whether its moving pharmaceutical equipment, biotechnology, life sciences or medical high technology machinery, IES has the solution.
We have developed our very own 4P approach on how to move critical pharmaceutical equipment. Covering all the bases of the move, from first thoughts right up until after the complex equipment has been relocated.
Provider
Without the right people how do you expect to get the job done?
Our first P stands for provider, the importance of who you entrust with your pharmaceutical equipment move cannot be understated. For the best results, ensuring a seamless and successful completion of relocation make sure to use an end-to-end service provider.
With an end-to-end service provider, the entire equipment movement process will be taken care of seamlessly. From rigging and relocation to project management an end-to-end service provider can take care of every possible option, allowing your mind to focus on other parts of the business.
Moving cleanroom pharmaceutical equipment at the best of times can contain a long checklist of individual processes that must align, by having an end-to-end service provider you are able to maintain high levels of communication and understanding throughout the relocation process. In comparison, if you opt for multiple providers, critical information can be missed or lost in translation.
Planning
Plan your work and work your plan. As part of a complex laboratory move for Pirbright Institute IES, in conjunction with the project team, created a detailed 70-page plan regarding the packing requirements and procedures needed for the relocation of virology laboratory equipment.
You wouldn't drive without insurance so why move your cleanroom equipment without it? Machinery movement insurance should be clearly communicated with you by your machinery movers. To mitigate any unwanted disputes and fees check whether the insurance that you currently use has no hidden downfalls. A perfect example of this is that public liability insurance WILL cover you if any damage to your building / property is sustained but WON'T cover you if any of your critical pharmaceutical process equipment such as blister packers, sealers and capsule filling machines get damaged. So, for your own piece of mind, get the right insurance in place.
When it comes to the moving of an entire production line, it's important to minimise disruption as much as possible. Therefore, we suggest moving pharmaceutical equipment outside of your standard production time. This will enable your business to run as usual with as little downtime as possible throughout the relocation process.
Make sure to read our blog on 'key things to consider when planning a machinery move' to see the full extent of our planning processes.
Preparation
Every successful move can be credited to successful preparation. This can be daunting, however working with a provider who possesses years' of experience can ensure that the project can be perfectly executed.
When faced with the complex Pirbright Institute laboratory move a clear challenge was going to be ensuring that there would be no failure with the packaging during transport, else the Pirbright Institute's Delta licence would be compromised.
Therefore, we needed to be prepared for such an event and facilitate for that. To do so we independently conducted testing and collation of data into all the materials that would be used for packaging. One of these materials was the clear plastics which would form a sealed barrier to the equipment. The clear plastics had to be impermeable, robust under duress and resistant to a disinfectant wipe down. All these properties were tested prior to the machinery move.
Post-move
Just because the equipment has been moved, doesn't mean that the job is done. Once the moving of critical pharmaceutical equipment has been completed it is now time for the installation process and CE Marking.
Whether you're an OEM or SME looking to install new or used pharmaceutical equipment, we can handle the installation and hook-up processes. It's one thing moving the equipment and another making sure that it is fitted correctly and operating at maximum efficiency. Through the correct implementation of our earlier 'P' for planning, our trained engineers will be aware of all the facilities that are needed for the equipment whether that be electrical, or compressed air and hydraulic.
No installation is complete without CE Marking, that's if you want any of your pharmaceutical products, production tools or equipment to be supplied to or sold within Europe. We most commonly complete CE marking and testing when completing a first-time installation or installing equipment that has undergone a change in function.
We can support you through every step of the way with our CE marking consultants, who are available to complete on-site CE testing on an international scale.
Download our free CE Marking guide, for our practical steps on how you can obtain CE Compliance for your pharmaceutical products and equipment.
Actions speak louder than words
It's one thing to talk-the-talk but completely different to walk-the-walk. We have been the regular point of contact for pharmaceutical companies who use high-value precision plants for their processes including GE Healthcare, Abbott Labs, Catalent and Corning Life Sciences. If they require a complex pharmaceutical equipment move within a tight deadline, they call us.
Why take our word for it when you can take the word of one of our customers, Becton Dickinson: IES were contracted to remove all manufacturing equipment from the BD Labware division at the main Plymouth BD manufacturing site and ship overseas. The IES team … played a key role in the success of the project, supporting the project team in planning and executing the prompt and safe removal of production lines from an environmentally controlled operational manufacturing area without impacting adjacent BD operations. CDM areas were set up and controlled by IES with clear procedures and policies in place ensuring plant deliveries, equipment disconnection, equipment packing & removal, waste disposal, and good housekeeping were managed appropriately.
Go with an expert, save yourself time and unwanted hassle. With over 30 years' experience we can source the right people for each job thanks to our extensive pool of dedicated professionals.
If you're looking for equipment, laboratory, cleanroom, production lines or plant relocations, contact us today to speak to the IES team directly and find out how we can support the needs of your pharmaceutical business.