IES completed a ground-breaking project to package and move laboratory equipment, samples of viruses that can affect livestock and other items contained within laboratories at The Pirbright Institute, in Surrey.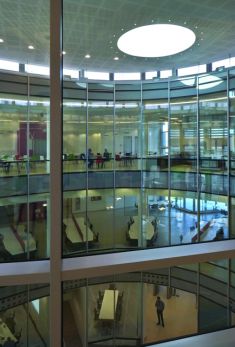 The Pirbright Institute is a world leading centre of viral disease research and surveillance, focusing on viruses that spread from animals to humans. Through fundamental and applied research they work to control, contain and eliminate diseases, such as foot-and-mouth, bluetongue and swine flu.

Pirbright had recently opened a new state-of-the-art laboratory facility at their headquarters in Surrey and expertise from IES was required for a highly delicate and complex equipment move from previous laboratory buildings to the new facility. The BBSRC National Virology Centre's Plowright Building now houses 150 scientists and staff and will play a vital role in the ongoing fight against some of the world's most devastating viral diseases.
A meticulously planned laboratory relocation
Because of the content within the laboratories - sensitive equipment and highly contagious pathogens - IES was contracted as a specialist packaging and logistics company to plan and carry out the relocation. Pirbright's project management and biosecurity teams tasked IES to come up with a project plan to package and transfer of all of the equipment - the first move of this scale anywhere in Europe.
Tim Patten, Operations Manager at IES was briefed to come up with a packing solution so that all equipment and temperature sensitive samples could be moved without damage. Tim, in conjunction with the project team, devised a detailed 70-page plan about the packing requirements and procedures that would be needed for the move. This included risk assessments, mitigation plans and method statements. The plan for the move also had to meet the requirements of the Department of Environment, Food and Rural Affairs (Defra) and the Health and Safety Executive (HSE).
Thorough testing and preparation
Testing and collation of data was also carried out by IES to ensure the process would work. All materials, including the clear plastics that were to be used to form a sealed barrier were tested as they had to stand up to various specifications including being impermeable, being robust under duress and being resistant to a disinfectant wipe down. The testing was critical as any failure of the packaging during the move could have jeopardised the Pirbright Institute's Defra license.

Once testing and the plan was completed, IES carried out the management of the move to the new facility; coordinating the IES packing staff and The Pirbright Institute's external contractors to ensure that the agreed method statements and risk assessments were adhered to.
IES offers a wealth of experience in providing engineering services for pharmaceutical companies, working with partners such as GE Healthcare and Abbot Labs.
A unique wrapping solution
Joan Shadwell, Project Manager for The Pirbright Institute, was responsible for the move and commissioned IES to supply the packing and project management of the move.

She said: "This project was very unusual as we had an enormous amount of equipment that had to be moved from a restricted area. We were looking for a unique wrapping solution and IES were able to provide this. We couldn't use our normal externalisation methods as this would have taken too long and most of the equipment is too sensitive to the harsh treatments, but HSE and Defra allowed us to wrap materials three times before transporting them across open ground. IES had to write the procedures, then we had to get approval from HSE and Defra and our internal Biosecurity Department. We were very pleased as both the planning and the move went exceedingly well and ran really smoothly. This is the first time we have moved equipment from high containment laboratories, on this scale, to a brand new building. When we did come across any issues, Tim and the team at IES were flexible and able to come up with unique solutions. We found them to be professional, friendly and accommodating and nothing was ever a problem."

Matt Boyd, Sales Director from IES added:

"This packing and logistics project for The Pirbright Institute was a very unique challenge - a task like this had never been done on this scale for such highly sensitive equipment and samples of viral diseases. The packing and project management that we carried out can now be adapted to meet the requirements of any organisation that has biosecurity requirements, for example in the medical, science or research and development sectors."
Are you planning a complex relocation? Benefit from a seamless, end-to-end service from IES. Call us on +44 (0)117 938 0600 or use the contact form.