CPI is one of the UK's leading printers of books. This print relocation project involved the complete dismantling of two presses; one in working condition, the other which had been damaged by fire.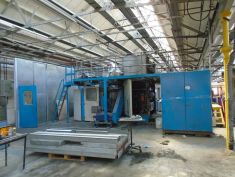 Methodical and careful
The working press was methodically dismantled and each part carefully labelled in preparation for the eventual re-install. All electrical componentry was removed and dismantled in sequence. All parts were then carefully protectively wrapped for transport using stretch and bubble wrap, and finally tarpaulin-covered whilst in transit.Physical removal from the building was by machine skates, after which 60ft cranes were used to lift and secure the dismantled presses onto low-loader trailers. Similar cranes were used to unload the presses at the destination, with machine skates to complete the move into the new building.
The IES team completed this project in two weeks, our resource comprising of two mechanical and two electrical engineers working with the project manager.
They gave me confidence
Andy Watts, CPI's General Manager, said:
"My team and I had the task of removing and relocating equipment from a closed site in Berkshire, to one of our other sites in Suffolk. The time frame was very challenging. I was put in contact with IES, explained our challenge, and straight away they gave me confidence that we could achieve the task in hand in the time allowed. The conversations were about 'how we are going to', rather than, 'not sure we can do'. It was exactly what I was looking for in terms of a supplier. They understood our position and set about supporting us.

"Once underway, everything went to plan, the onsite engineers were excellent, as was the support from the main office.

"A job really well done, and I would have no hesitation in picking up the phone to IES, should I require further equipment moves in the future."
IES has a wealth of experience in providing engineering services to the print industry. To discuss your requirements call +44 (0)117 938 0600 or send us an enquiry via the contact form.