HP is a global technology company that specialises in manufacturing personal systems, 3D printers and industrial digital presses for businesses across the globe
During the pandemic, the company developed its new HP PageWide Web Press T250 HD and needed a partner to support its installation
We undertook the first-ever installation of the T250 and helped to update and evolve the instruction manual with our in-field findings
As a result, HP was able to overcome logistical challenges posed by the pandemic and successfully launch its new PageWide Web Press


A Long-Standing Partnership
HP manufactures a range of high-end inkjet presses for customers all over the globe, giving them a high-quality production printing service.

Throughout the pandemic, the company developed its ground-breaking T250 print press, a state-of-the-art digital inkjet press that would raise the bar for quality and efficiency with its High Definition Nozzle Architecture (HDNA) printheads and print speeds up to 500fpm.

When it came to the first-ever real-world installation of the press, they called on us—their global installation partner since 2011—to complete the installation and benefit from our deep expertise and experience working with complex digital print presses.

Here's the story of how we achieved two world firsts with this project.
The Challenges of Completing a First-Ever In-Field Installation
As a newly developed press, the T250 had been tested at HP's stateside facility in Corvallis but it was yet to be installed in the field.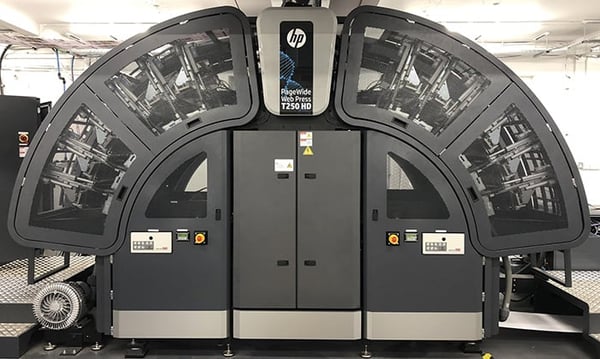 Our job was to complete the first-ever in-field installation of the press at a customer site in Essex, England. This made us the first to install the WidePage Web Press globally and also the first third-party provider to independently take on an end-to-end installation project of this magnitude.

But with such a critical task came various challenges:
The pandemic had brought about travel restrictions and social distancing rules which we had to circumnavigate both logistically and on-site
We were the first installers to use the WidePage Web Press's instruction manual, which was mostly based on theory and computer work and meant we had to treat it as a work in progress


A Smooth Offloading, Installation and Set-Up
While travel restrictions prohibited HP's Corvallis team from travelling to the customer site, we closely collaborated via Zoom to knowledge share and plan every step of the installation ahead of time. They would also be on call for remote support throughout the project.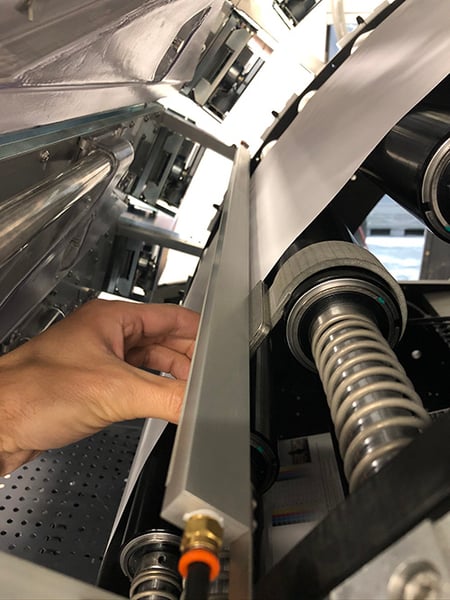 The first part of the project involved receiving and offloading the press in modules at the customer site. We then unpacked the press ready for mechanical and electrical assembly.

To minimise downtime and to familiarise the customer's team with the T250, we initially installed a T240 press, before later upgrading this to the T250. Because the customer was replacing four of its twelve existing offset presses with the T250, this meant they could still operate eight of the presses during installation, keeping downtime to a minimum.

Because much of the WidePage Web Press's documentation was based on theory, we took an active role in evolving and updating the manual during installation, enriching its guidance with our findings in the field.

After we had trammed and perfectly aligned the components, we began the front-end work. This included IT computer set-up and involved fibre cleaning, testing and inspection as well as software configuration.

Finally, we integrated the press, tested the functionality of every component, and validated it to make sure it was safe and operated to HP-published specifications. After we completed all tests that the contract required, we obtained the Customer Signature of Acceptance.

To adhere to social distancing regulations throughout the project, we created an installation 'bubble', which helped our engineers avoid mixing with other on-site personnel.
Two World Firsts: A Successful Project
We completed the first-ever in-field installation of the T250 print press on time and with high levels of accuracy. The customer has now realised numerous operational benefits and holds a competitive advantage in the printing market.

As a result of this successful installation, HP also started relying on us to carry out further installation and upgrade projects. This enabled them to reduce travel and overcome logistical difficulties posed by the pandemic.

Here's what Raul Maurici, Product Manager at HP, had to say about working with us:

"It is a pleasure to work with such a professional company that meets the high quality and safety standards of HP. From a Project Manager point of view, I appreciate the IES involvement with the project planning phase, in order to perform a smooth execution phase.

"Another very positive strength is the extensive experience and commitment of IES engineers and technicians in meeting all project milestones. Last but not least, I would like to highlight their dedication to continuous improvement, contributing to better methods of installation, and reporting potential design upgrades."
Looking for the Right Partner to Support Your Print Press Installation?
We've worked with industrial printing presses for over 30 years, from some of the oldest offset machines still in use to the most modern digital presses available.

Talk to one of our experts today to find out how we can help.