This is the third in a series of blogs we've been posting about CE Marking. It's obviously a subject that's important to us at IES, but for a very good reason. A large number of importers and manufacturers do not fully understand the application of, or the implications behind, CE marking legislation as it is increasingly being implemented. This is not something that can be ignored or easily got over when and if you're caught!
So, to be clear, the products affected can be found under the Directives listed in our April 2015 blog. The countries CE marking applies to are all those in the European Economic Area (EEA), comprising the EU and EFTA countries plus Switzerland and Turkey. In the UK, UKCA marking is the CE marking equivalent.
Responsibility for securing CE marking and then for placing it on the product is entirely that of the manufacturer or, if applicable, the importer or distributor into those countries involved. This responsibility involves the initial carrying out of the conformity assessment, the setting up of the technical file, the issue of the EC Declaration of Conformity (DoC) and the placement of CE marking on the product concerned.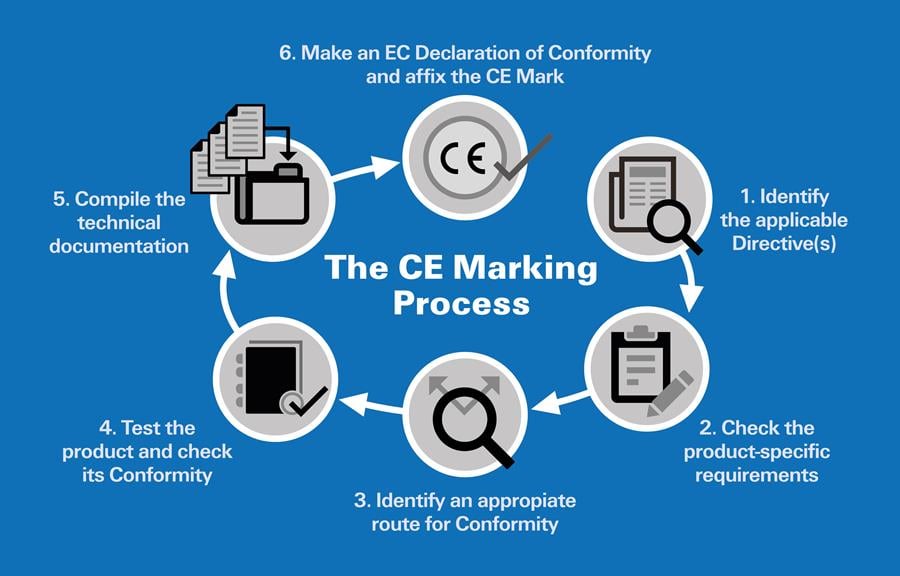 Are you supplying or selling goods on the European market? Find out which products need CE marking
The process will depend on your product, so:
Step One: Identify the Directive that applies to your product.
Step Two: Make sure your product complies with the essential requirements of the Directive.
Step Three: Check whether you need to have an independent conformity assessment for you product.
Step Four: Test your product for conformity, including a risk assessment.
Step Five: Prepare and have available all the technical documentation required by the Directive.
Step Six: CE marking your product. This is a complicated procedure in itself.
Easy? No, not at all. And whilst it's possible to undertake this procedure for yourself our experience would strongly advise against it. You're far better working with experts who will guide you through the entire process, ultimately saving you both time and money.