IES specialises in consultative on-site CE marking, and is able to easily provide a Covid-safe service with just a few tweaks to our usual process.
Download our CE/UKCA marking guide here

Why choose IES for CE marking?

IES specialises in consultative on-site CE marking. This sets us apart from many other CE marking service providers, who only deal with products and machinery that can be transported to them. Our flexibility is augmented by a small CE marking team which possesses a wealth of knowledge and experience.
With our consultative approach, you can rest assured that the most appropriate and economical testing procedures are used. We work with our clients to identify the best remedial solutions when necessary, providing a truly end-to-end CE marking service.
Would you like to know more about CE marking from IES? Visit our CE Marking page

Is IES CE marking Covid-safe?

Our CE marking service has always demonstrated exemplary health and safety management. During the pandemic, our on-site CE marking offering is a continuation of the service which we have offered for years. But we have made slight tweaks to ensure that our CE marking service is completely Covid-safe:

Covid-safe CE marking
We carry out CE marking using a two-man team which includes a safety specialist.
Thanks to our clear communication with clients, face to face interaction between personnel can be kept to an absolute minimum.


There is no crossover of personnel in the IES 'bubble', and the remote operation of machinery is utilised when possible.

Pressed for time? IES can complete many CE marking projects in just two days, at your site. Enquire via the contact form or call +44 (0)117 938 0600.
What does CE Marking from IES cover?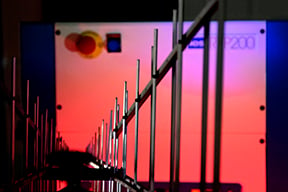 Our CE marking service tests products, production tools and equipment to be supplied or sold in the European market. This quick and safe solution allows you to achieve CE certification, in line with the requirements of the Electromagnetic Compatibility (EMC) Directive, Low Voltage Directive (LVD) and Machinery Directive. We offer a site survey assessment and large installation survey capabilities.

How much does CE marking cost?

On-site CE marking from IES can add value to the CE certification process, saving you time and money. Because we act on a consultancy basis, IES are able to recommend the most cost-effective solutions to achieve the compliance you need. We provide test data which supports the self-declaration of your products. That means you can negate the additional expense associated with appointing a Notified Body for CE marking.

Any questions?

Would you like to know more about Covid-safe CE marking? Call us today with any questions on +44 (0)117 938 0600 or use the contact form.