Catalent is a global leader in enabling pharmaceutical, biotechnology and consumer health partners to develop, launch and supply products for clients worldwide
The company needed to move and install process equipment at its new building without disrupting operations at its adjacent facility
Our expert teams of engineers helped to unload, move and install critical equipment, solving complex challenges with thorough planning and expertise
Overall, we safely installed eighteen tons of critical equipment, helping the company set up operations quickly and with minimal disruption




Catalent: A Global Pharmaceutical Leader
Catalent is a global leader in helping pharmaceutical, biotechnology, and consumer health innovators to develop, deliver and supply treatments and products for patients worldwide.

In 2019, the company started construction on a brand-new building at its 253,000 ft² Swindon facility, situated in Wiltshire, England. This new building would support and develop the growth of its new technology, Zydis Ultra.

Having worked with us across a number of projects since 2005, we were its first choice when it came to installing, positioning and assembling the process equipment correctly in the new building and ensuring equipment met OEM specifications.
Key Challenges of the Project
When construction of the new building was near completion, we were brought in to begin the project. But because the Swindon facility currently produces around 1.2 billion doses for patients annually, we needed to minimise disturbance to its day-to-day operations as much as possible.

This meant we needed to coordinate access routes and synchronise operations with construction activities to ensure that the adjacent operational facility remained unaffected.

Other key challenges we faced included:

Needing to adjust and undo parts of the new building to accommodate individual equipment sizes, shapes, weights and centres of gravity during move-in

Uprighting tall handling towers in height-restricted rooms

Handling the sensitive, high-value and ultra-clean equipment with extreme care to ensure that performance and accuracy were not affected and that it was suitable for use in a clean manufacturing environment



Four Months, Eighteen Tonnes
The project was split into three phases over the space of four months.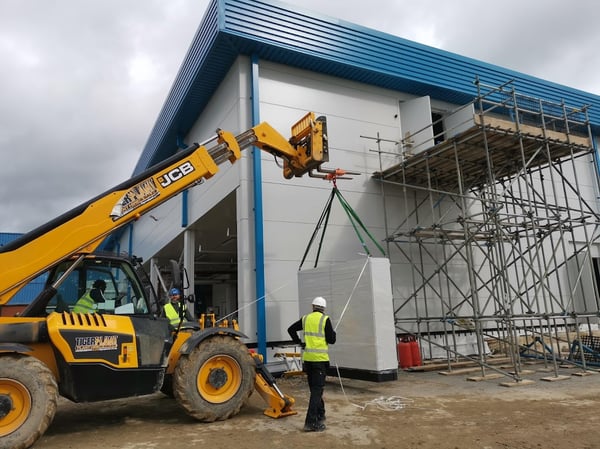 We began the project with a site survey and made careful considerations when planning each stage to account for equipment sensitivity and unique requirements (including environmental considerations, size, sensitivity and more). We also were responsible for all construction design management (CDM) activities.
The equipment (weighing in at over 18 tonnes) arrived at the Catalent facility, packaged carefully by a third-party supplier. Our role was to first offload these items into temporary storage at the Catalent site, taking care to maintain strict levels of cleanliness and adhere to the highest health and safety standards, later moving them to their final destinations in the new building.

To do this, we supplied a 4-tonne forklift truck (FLT) and associated lifting and ground handling equipment. Because of the rough terrain of the building site (including the access to its loading bay), we used an all-terrain Telehandler for lifting the equipment into the building, rather than a standard FLT.

The final stage of the project involved the mechanical assembly and installation of the process equipment in its final destination. With guidance from various equipment suppliers, our mechanical engineers worked to assemble each complex piece of equipment using mobile elevating work platforms (MEWPS), mobile gantry A-frames and other specialist lifting equipment.

This didn't come without its challenges. Hand drilling the stainless-steel floor decks to fix down each piece of equipment was time-consuming, while we also needed to lift, align and accurately mark out an underhung frame weighing 2,000 kg against a 5-meter high ceiling. Using genie lifts and MEWPS, we were able to drill structural beams upside down using a mag drill and cutting arbour.

A Successful Move and Install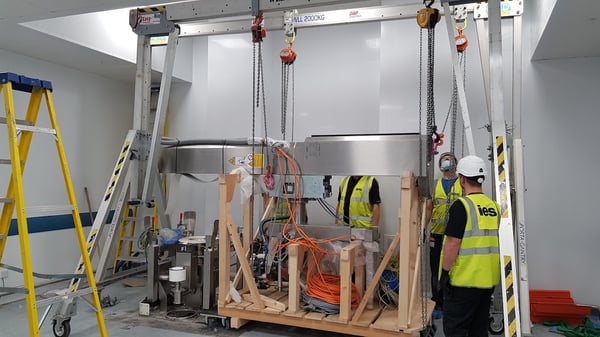 If we didn't have decades of experience dealing with complex moves and installs, we likely would have encountered many more challenges on this project.
But, as a credit to our specialist team of engineers, we safely unloaded and installed four deliveries containing eighteen tons of equipment overall.
Here's what Les King, Engineering Project Manager at Catalent, Swindon, had to say about working with us:

"Having a long-standing partner that knows the pharmaceutical industry and our Swindon site made the entire process run smoother, ably implemented by IES team of expert engineers.

"This was a huge investment, so we only want to work with experts who can get the line up and running effectively and quickly, and who we can rely on to care for sophisticated equipment, which are vital to our operations. From the sales team, right through to the engineers, the service has been second to none, and that's why we call on IES again and again."
Looking for the Right Partner to Support Your Clean Manufacturing Move and Installation Project?
For more than 30 years, we've been working with complex biotechnology, life sciences, medical and pharmaceutical equipment and world-class OEMs across the globe.

Talk to one of our experts today to find out how we can help.