Catalent is the global leader in enabling pharma, biotech, and consumer health partners to optimize product development, launch, and full life-cycle supply for patients around the world. Supplying over 70 billion doses from over 50 global sites, efficiency is key.
IES has been partnering with several of Catalent's sites since 2005. We have aided on a range of projects over the years, from equipment moves between cleanroom facilities in both the US and Europe to rejigging production flows and relocations of full production lines. The latest project related to Catalent's efforts to industrialize their new Zydis® Ultra technology at the company's facility in Swindon, UK.
The 253,000ft2 Swindon facility is the global development and manufacturing centre for Catalent's Zydis Orally Disintegrating Tablet (ODT) platform, used to treat conditions including Parkinson's disease, allergies, and travel sickness. Equipped with high-technology manufacturing suites employing a unique freeze-drying process, the site produces around 1.2 billion doses per year, including both potent and controlled substances. The site also undertakes pharmaceutical testing for the many UK and international pharmaceutical companies.
A new 40,000ft2 building in Swindon was part of a £27 million investment announced in 2019 to support further growth and new technology, Zydis Ultra, which offers enhanced taste-masking capabilities, increased drug loading, and the potential for functional coatings. The Zydis technology also offers a formulation strategy for oral delivery of peptides, allergens, and viral vaccines.
With the new building construction near completion, IES were commissioned to install, position, and assemble the process equipment to the specifications of the OEM, allowing operations within the building to resume as quickly as possible. The project being split into three phases over a four-month period was to ensure the day-to-day activities were synchronous with other construction activities that allowed the adjacent operational facility to remain unaffected.
Four deliveries, eighteen tonnes
To kick off the project, the items were delivered to the site. Weighing over 18 tonnes and being a mix of vital equipment, machinery, and ancillary items, the deliveries needed to be offloaded into temporary storage at the Catalent site with care, thought and to the highest health and safety standards.
With over three decades of experience, moving equipment is second nature to IES, knowing preparation is key and having defined considerations for each stage. Conducting a site survey before every project is vital, even when we've worked closely with the facility over several years, as we have with Catalent, as every situation is unique. As high-technology industry and cleanroom specialists, we know that certain equipment and machines can be sensitive to shock, temperature, and moisture so we alter plans accordingly.
In this instance, the equipment being moved was high value, ultra-clean and needed to remain so due to the pharmaceutical cleanroom environment, care was taken by a third-party packer to ensure each piece was prepared, double wrapped to prevent dust and other elements from reaching the equipment and secured onto timber bases suitable for its transport journey.
A smooth move
After each shipment was successfully offloaded, it was time for part B, moving the equipment from temporary storage to their final locations within the Catalent building.
With IES's experience, the resource was selected to provide the best cost-effective service, in this case being one supervisor, one to three riggers depending on the weight and complexity of the equipment and access routes. Also included was the supplier of a 4-tonne forklift truck (FLT) and associated lifting and ground handling equipment.
One of the main challenges during this project was coordinating the complex access routes and working around other contractors on a construction design and management (CDM) regulated building site, whilst minimizing disturbance to day-to-day operations.
The equipment themselves posed challenges that commonly require creative solutions, including:
The size, shape, weight, and centre of gravity (COG) of some of the individual machines needed very strategic planning of movement to locations within the building where in some cases, the Catalent building had to be adjusted, including undoing some of the building works to accommodate some larger items.
Up righting of tall handling towers in height restricted rooms. Ideas and solutions were sought within the IES team, then presented to the OEM and Client for review and acceptance of the method. With special consideration for a top and tale lift of 2 x Drum lifter towers using COG pivot and two parallel Gantry A-frames to lift and swivel 1000KG, 3.5-metre-tall lift towers within a 4M tall building.
Each of the machine modules needed for the process line differed in size, shape, and COG, but they all included sensitive electronics and needed to be dealt with using extreme care to ensure the performance and accuracy of the machines were not affected.



Time is also another factor when delivering a project on time and in budget, IES being well versed in working smart and with many technical lifts under our belt, the majority of the time is spent on deploying and setting up the lifting equipment and ground handling tools. One of our work smart / work safe tactics is to reduce double handling of equipment to a minimum, to keep common activities in one area to reduce set up times where possible. Due to the rough terrain of the building site, including the access to the building's loading bay, an all-terrain Telehandler was used for lifting the machines into the building instead of a standard FLT.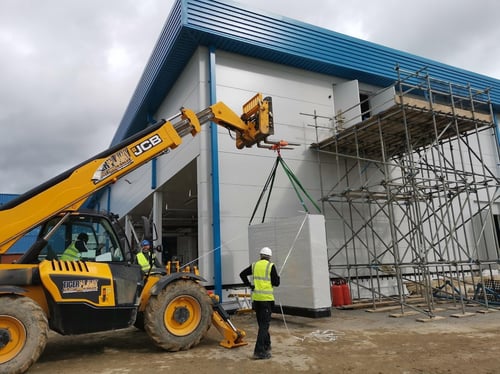 IES Assemble
The grand finale involved mechanical assembly and installation of the process equipment. With guidance from various equipment suppliers, three IES Mechanical Engineers set to work to piece together the 100-piece puzzle utilising mobile elevating work platforms (MEWPS), Mobile Gantry A-frames and other specialist lifting equipment.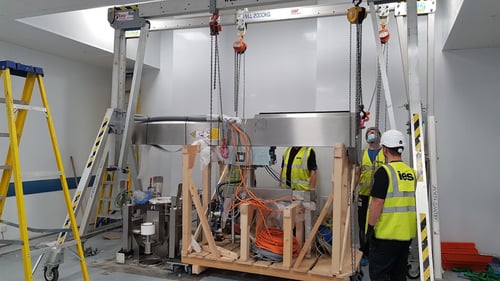 With any puzzle, the corners are the easiest part, but this equipment conundrum wasn't as simple for our engineers. Faced with hand drilling of the stainless-steel floor decks to enable the fixing down of each machine was time-consuming and very tiring. Plus, the fixing of an underhung frame weighing 2000Kgs added to the complexity, having to be lifted, aligned, and marked out accurately against a ceiling 5-meters high. With the use of genie lifts and MEWPS, structural steel beams were able to be drilled upside down using a mag drill and cutting arbour.
If we didn't know how to handle these situations from years of experience, then we could have encountered many more issues.

Benefits of using IES
Les King, Engineering Project Manager at Catalent, Swindon, said: "Having a long-standing partner that knows the pharmaceutical industry and our Swindon site made the entire process run smoother, ably implemented by IES team of expert engineers.
"This was a huge investment, so we only want to work with experts who can get the line up and running effectively and quickly, and who we can rely on to care for sophisticated equipment, which are vital to our operations. From the sales team, right through to the engineers, the service has been second to none, and that's why we call on IES again and again."
Ensure your processes keep running
We have many years of experience in pharmaceutical equipment relocation and moving a wide variety of equipment within high technology industries and cleanrooms, from single machines to full site relocations. We understand the complexities of the equipment and the strict cleanliness of the environment. Talk to our experts today.