Bristol University's School of Physics had been home to several Nobel laureates over the years. Pioneering research here has included the discovery of the π meson and the theoretical investigations of the electronic structure of magnetic and disordered systems.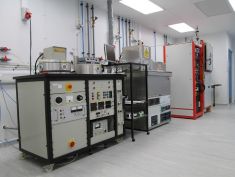 The school has been responsible for research that has underpinned fundamental advances in quantum mechanics, and it was to accelerate and expand its fabrication capabilities that a new on-campus clean room was built. IES won the tender to provide a range of engineering services to support the School as they relocated various clean room tools from their existing location in the Queen's Building to their own Physics Building.

Fitting the bill
The University identified a number of companies to invite to tender, but it soon became clear that there were actually very few that could offer the combination of equipment knowledge and equipment relocation experience offered by IES. This was not a straightforward move, it involved:
A complete check of each tool prior to it being disconnected. Tools were tested for efficiency, leak and pump rates and to ensure that they were operationally acceptable

The

de-installation of equipment

, including disconnection from utilities

and then locking down all moving parts to ensure safe movement and transit

The physical movement of all the equipment from the lab, wrapping for protection and safety, loading onto the transport vehicle using a tail lift and transfer to the Physics building

Offloading the equipment from the transport vehicle and transferring each tool to the lift access level

Movement of each tool to the correct area and into position

Reconnection of the equipment to utilities

Re-commissioning of all equipment and testing to ensure the same operational performance as before

Full service of all vacuum equipment including replacement parts and consumables where required
For expert tips, read our guide on Method Statements and Risk Assessments for a Factory Relocation
The knowledge needed
Few projects run completely smoothly. The build time for the new clean room facility overran so IES had to remain completely flexible to help the project complete. It was also recognised that some of the equipment being moved was of an age at which problems could justifiably be expected. Happily, IES's experience runs deep, the company having the knowledge necessary to get all the equipment reconnected and working satisfactorily.
A "solutions-based attitude"
Would the University use IES again? Dr Andrew Murray the Faculty Technician says:

"IES has proven to be the ideal partner in this project. Their practical approach, engineering experience and solutions-based attitude has made what could have been an extremely difficult move into one that's ultimately been completed on time and on budget. We're more than pleased."
Discuss your equipment relocation requirements today. Call IES on +44 (0)117 938 0600 or use our contact form.