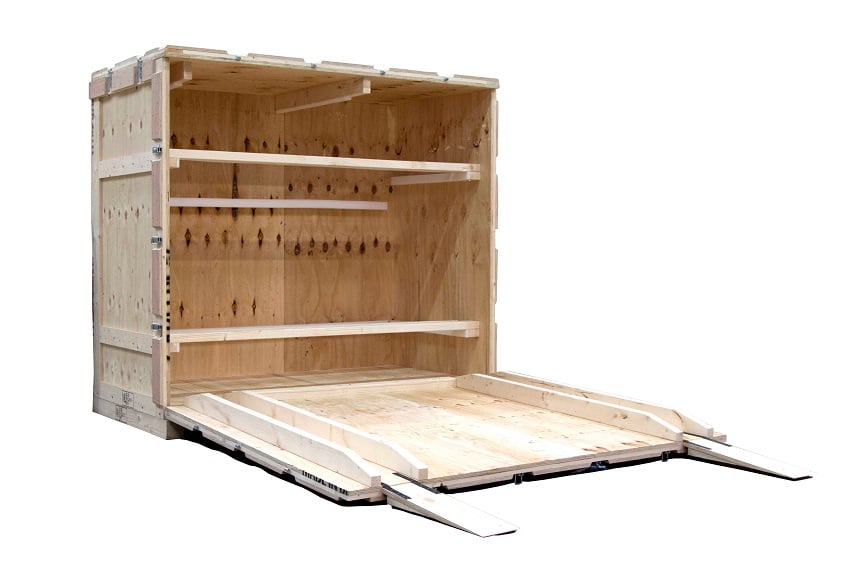 IES offers a range of export packing and crate making services which you can take advantage of, with a number of custom made crates available. We also cross-train our workforce, meaning we're able to keep our service provision strong across all areas at all times.
Covering all export packing angles
We will come onto the selection of the BS1133 compliant wooden crates & bases which we offer below. But first it is important to outline the wide scope of our export packing offering. We assure you of fast delivery, and can provide packing solutions for export or storage. All of the soft wood which we use has been heat treated to ISPM 15 standard.

We give customers the choice of an on-site packing option, as well as logistics services such as container loading and stowing, along with freight forwarding and customs clearance. What's more, we are registered with the MPAS (Military Packaging Approved Scheme), making us fully accredited to provide the design and manufacture of packing solutions to Defence Standards.
A comprehensive range of wooden crates
From small to large and everything in between – we recognise the varied and unique needs of our customers, and therefore offer a broad variety of wooden crates as part of our export packing service.
Our wooden crate varieties include:
Softwood ply/batten crates with a choice of standard, machine/robust and vibration isolation bases. The sides, ends and lids of these crates are made with construction grade 9mm plywood. They can be supplied flat packed or fully assembled, with internal bracing on request. Ply/batten crates are most common in construction and used to pack and ship many different types of equipment – from ornate plaster to high tech machinery.
"Full timber crates are used for the packing of heavier items."
Then there is the close boarded full timber crate. With sides, ends and lids made from 150 x 22 mm timber, these crates are ideal for large and heavy items, and are packed with bracing and crushers. Waterproof lining is optional. Full timber crates are used for the packing of heavier items that would require a more robust level of securing inside. Recently, for example, we utilised a full timber crate for the packing of large brush rolls.
For items which only require being secured to a pallet – another basic level pack, suitable for restricted costs allowing ease of handling whilst still secure – the skeletal crate might be more suitable. It should be noted that these crates are more labour-intensive to produce.

A skeletal crate is similar to a ply/batten crate but not fully enclosed – an economical option for non delicate contents giving a nominal amount of protection. For example, we recently packed tyres for a customer in this way.
The pallet box is another export packing option. It's a basic wooden base consisting of a cardboard sleeve and lid. This crate is a cost-effective option which is used for the shipment of relatively small items. There's also the alternative of a more robust, tri-wall wrap-around box.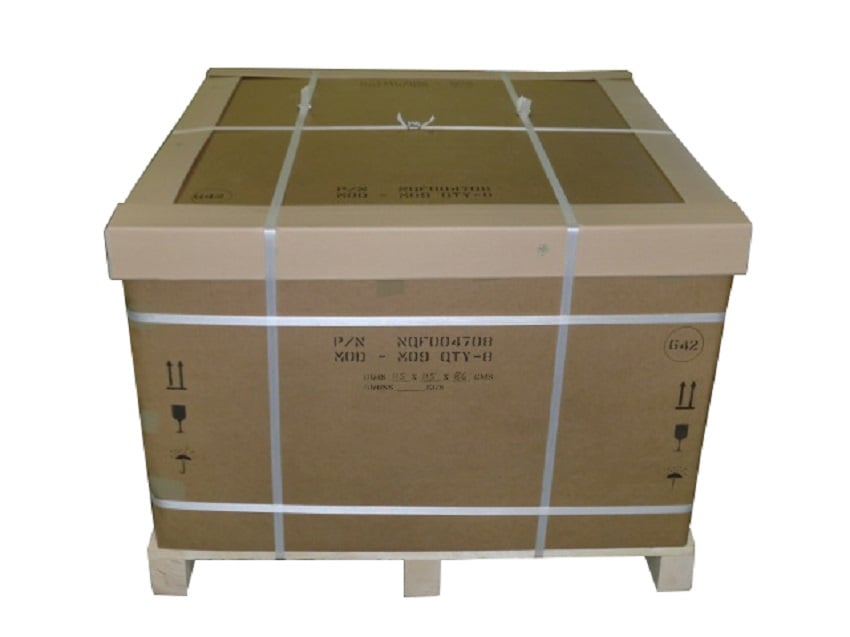 Exhibition and reusable crates come with clip fasteners and wheels, offering easy access and reuse. These are produced when equipment needs to be shipped multiple times – often to exhibitions or for maintenance works. An internal ramp allows the delivery to be made to a consignee that does not possess lifting options to remove the equipment from the crate base. We provide this regularly for West Technology, for example, as their crates are often delivered to laboratories with limited handling equipment.
"We also offer bespoke options for full timber crates or ply batten crates."
We also offer bespoke options for full timber crates or ply batten crates. In the absence of lifting equipment, you might require an integral ramp for packing and unpacking. We can also include saddles for cylindrical items, clip fastening, hinged lids, wheels, viewing doors or internal shelving, as well as foam inserts which can be customised to your needs.
Export packing is an area in which we have lots of experience, but our export packing team is also multi-skilled, and ready to assist clients in other areas. That's thanks to our staff cross-training programme.
A cross-training culture
Our commitment to a company-wide cross-training programme has provided us with the business flexibility to offer a range of services at any time.

When you appoint our export packing team to handle a project, you can expect to reap the benefits of a broad skill set and substantial knowledge base. Let's take the case of a machine movement across international borders. Not only can you rely on IES for the packing itself, but we are also able to take responsibility for the project as a whole – supplying vibration isolation bases for delicate equipment, and handling the de-install, transportation, and re-install of the machine itself, along with potentially vital elements such as site surveys and CE marking.
Contact us for a total export packing solution
You can count on IES to fulfil all your export packing requirements. We offer a complete export packing offering, and many additional services – resulting in a cost-effective, streamlined solution.
Call the IES team today on +44 (0)117 938 0600.