Hayles and Howe is a leading supplier of new build and restoration plaster work, servicing clients in the UK and all over the world. Since 2007 they have called upon IES's Export Packing service for their overseas shipping, in which packing and crating is critical. Export Packing from IES ensures safe and secure transportation across a wide range of sectors; from delicate objects to complex high tech equipment.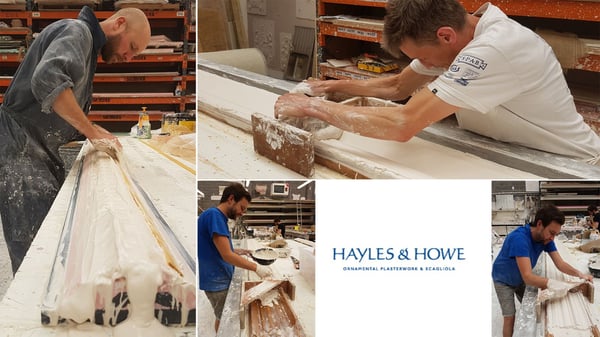 Previous projects had seen IES pack Hayles and Howe products for export to countries including Cyprus, Austria and the USA. In this assignment, export packing was required for a mass shipment of decorative cornice plaster lengths measuring three metres. These ornate pieces of plaster - considered extremely fragile - were destined for a private mansion in Dubai known to Hayles and Howe as the 'Polo Villa'.
Rising to the challenge
Over the past decade, Hayles and Howe has appreciated the flexibility afforded to them by IES. Hayles and Howe deals with top end clients who can change their mind frequently, meaning orders are put back and quantities can change. This occasion was no different, and the deliveries of the items were 'drip fed' to the IES warehouse for storage over a period of time. However, as soon as the last crate was sealed, it was vital that they were up and away.

Another challenge was presented by the airport X-ray machine. The crates had to be of a suitable size to go through the machine, completing the security process without any problems owing to width restrictions. The worst case scenario of the crates being opened had to be avoided at all costs.

It had to be a timely, secure and efficient operation. Hayles and Howe expected the items on the doorstep of the Polo Villa within three days, so time was of the essence. Any delay might have caused disruption to the construction schedule at the destination.

IES's duty extended from the moment the plaster lengths were dropped off at their warehouse, to them reaching their destination in Dubai, but there was also the consideration of labelling, With many different lengths, thicknesses and eight to ten styles within the 21 crates, there was the potential for confusion at the recipient end.
Bespoke wooden crates from IES are suitable for a broad variety of purposes. Read about our ISPM 15-compliant wooden crate range
A solution made to measure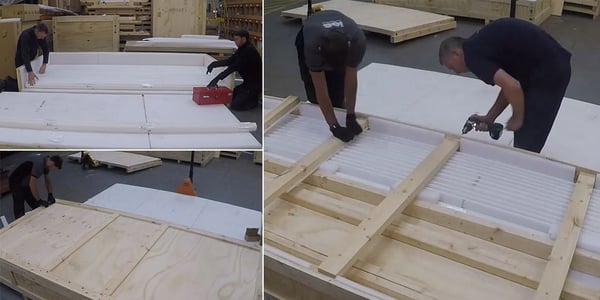 In order to ensure complete safety in storage, items were packed into crates the moment they arrived at IES HQ. Crates were then kept in a fully secure warehouse with CCTV and alarm systems, until the time came to ship.

IES designed a crate size which was both certain to pass through security without any problems, and completely safe to stack. Packaging met with ISPM15 standards.

It was decided that foam inserts were the best method to preserve the integrity of the lengths. Crates used a ply-batten construction lined with 25mm foam, and cornice were placed length-ways up on their sides with 13mm foam inserts between each length to protect against damage.

Despite the large freight size, IES used two trailers large enough to deliver all the crates concurrently to Heathrow Airport on shipping day, ensuring a rapid and holistic transportation.

In a demonstration of the IES commitment to go above and beyond the call of duty, a labelling system was devised in order simplify the unpacking process for the local architects and installation team employed by Hayles and Howe in Dubai. The marking technique assured the contents of each crate was clearly displayed, including specific style and quantity. This saved time for the installation team and negated the need to hunt through the crates for the cornice lengths which they needed.
No hitches, no hiccups
Thanks to the effectiveness of the IES Export Packing solution provided to Hayles and Howe, the entire operation was successful and the items reached their destination in perfect condition, within the allotted time.

Using our previous experience of working on projects involving items of similar delicacy - such as laboratory glassware and a quartz tube for a furnace - IES was able to ensure complete end to end protection for the fragile decorative cornice plaster. The solution delivered total safety for these delicate items through storage, and then a 4,500 mile journey from Bristol to Dubai.

IES will continue to work with Hayles and Howe on future projects requiring export packing. Hayles and Howe is currently in the planning stage for delivery to a palace in Riyadh, Saudi Arabia.
"A pleasure to deal with"
Niall Harris, Production Manager at Hayles and Howe, described IES as "a pleasure to deal with". He also had the following words:

"Hayles and Howe have worked with IES for a number of years. In this period we have carried out a number of export projects for our clients around the world. The items we export are fragile and require special consideration.

"All of our consignments have arrived to their destination without damage and without any delay. I have found the IES great to work with, they understand our products and the time constraints which we work under."

Watch our 1 minute time-lapse video to see how this work unfolded: