Machinery Installations
Since 1991, our highly experienced engineers have been completing machinery installations in full. IES oversees lifting, relocation, installation and rebuilding of sensitive machinery and hi-tech production equipment in the UK and overseas.
Here you can read more about the fundamental steps involved in machinery installation.
Find out how our machine movers can help you complete a complex machinery installation – call +44 (0)117 938 0600 or use our contact form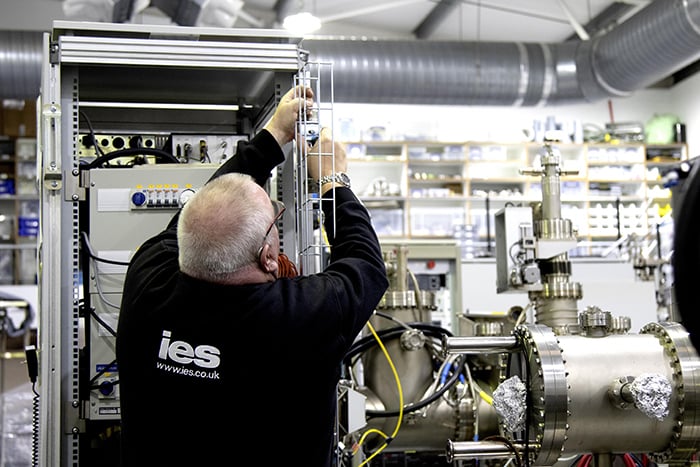 Installing machinery: Work with an expert
Before we outline the process, it is important to emphasise that machinery installation and relocation is rarely simple. There is no one-size-fits-all solution for any client case. Many businesses rely on sensitive, intricate equipment to complete mission-critical business tasks. Any damage to this machinery by a vendor that lacks adequate experience or the tools to complete the job can complicate timescales and workflows, while putting your business's production, capital, and resources at risk.
Now let's look at our five steps:
Machine unpacking and move-in
Whether your machinery installation is part of a relocation project, or a standalone job, the unpacking and move-in is an important part of the planning. At IES, we account for every part of the machine, including the order in which each part is moved, where it is going, and how it will get there.
Access is a big factor in planning – the right vehicles are needed for delivery, and could require a forklift or tail lift. Our Machine Installation service includes a site survey to identify any site features that could impact the move-in, such as the gradient of surfaces and size of access points.
Assembly and alignment
The site survey which precedes the installation is also crucial in determining how the assembly of the machine could be affected by the layout of the site. Efficiency assembly relies on the organisation of parts – the modules and parts of the machine should be clearly labelled and arranged to make assembly as straightforward as possible.
Errors in the alignment of the machine can lead to damage and downtime. To avoid issues such as misaligned shafts or belts in rotating machinery to problems with seals and couplings – it is essential that alignment is accomplished with uncompromised accuracy. In some cases, laser-guided alignment can be the best option for assembly.
Read our machinery installation case study and discover how we approached a complex machinery removal and installation for Nottingham Trent University
Facilities hook up, start-up and commissioning
Required facilities for the machine should be confirmed and evaluated during the planning stage, ensuring that hook-ups are in the right positions. This typically involved liaison between us and the site manager, with remits being agreed beforehand.
Start-up of the machine is another stage that involves close coordination between the machine installation provider and the customer. The site manager can take a lead role in directing the order in which elements of the machine should be switched on, as they would usually know the machine, and the facilities, better than anyone.
When commissioning a machine, we work through a checklist, ensuring the safety and functionality of the newly installed system. This may involve validating the performance of elements like panel energisation, electrical communication, HVAC and lighting.
Do you require CE marking, UKCA marking or PUWER?
When machinery is installed – either after being relocated or installed for the first time – it could need testing to ensure CE compliance. This can include assessments to help requirements of European legislation such as the Electromagnetic Compatibility (EMC) Directive, Low Voltage Directive (LVD) and Machinery Directive. For machines being installed in the UK, UKCA marking applies in the same way that CE marking does in European Union member states.
Any organisation that operates machinery in the UK needs to comply with PUWER regulations. The purpose of the Provision and Use of Work Equipment Regulations 1998 are to ensure machinery and related equipment, as well as the working environment which surrounds them, are safe. IES offers PUWER assessments as part of our Equipment Installation service.
As a machine movement provider with a wealth of product directive experience, IES can provide testing and assessments for CE marking, UKCA marking and PUWER, offering clients cost savings and convenience.
Machine production testing
Power is increased to operating levels gradually. The production testing stage, which is also known as a customer acceptance test, is typically the final part of a machine installation. The process of verifying the performance of the machine can involve a collaboration between the machine relocation provider and the machine operator.
There may be a 'trial period' stipulated in the machine installation contract, that states a plant process must operate uninterrupted for an agreed time. Following production testing, an acceptance certificate may be issued to the machine installation provider from the machine operator, to confirm the satisfactory operation of the machine.
Machinery installation success stories
Over the last 30 years, IES has completed complex machinery installations projects for clients across a diverse array of industries, including:

Why choose IES for machinery installations?
When tasked with installing complex, intricate, or sensitive machinery, your company needs to work with a highly qualified industrial machinery installations specialist. IES is a leading worldwide provider of on-site engineering, technical, and logistics services, and our wealth of hi-tech experience ensures that no part of your installation project is left to chance.
A machinery installations specialist will create detailed plans and schedules for all equipment moves and installations. We provide necessary lifting services, move equipment to its new worksite, undertake compliance assessments, and test components extensively after your installations are complete. This ensures your machinery is fully functional and ready to operate. Through this end-to-end approach, our industrial machinery installation services are able to meet and surpass client expectations.
Put your machine installation in the best possible hands. Call IES today on +44 (0)117 938 0600 or reach out via the contact form