UKCA marking has replaced CE marking as the required certification for products and machinery being sold or supplied to the UK market. UKCA marking came into effect on 1st January, 2021, and from 1st January, 2022, CE marking will no longer be recognised in the UK.
On this page you will find key information about UKCA marking.
Download our UKCA / CE Marking Guide - click here
What is UKCA marking?
UK Conformity Assessed Marking (UKCA marking) is a new product marking that is necessary for goods being sold on the market in Great Britain (including England, Wales and Scotland). It covers goods that formerly required CE marking.
It should be noted that goods placed on the market in Northern Ireland still require UKNI marking or CE marking.

When should UKCA marking be used?
UKCA marking will be required for goods – such as products, production tools and equipment – which are placed on the GB market. It applies to the vast majority of goods currently covered by CE marking. UKCA marking came into effect on 1st January, 2021.
Find out about our UKCA marking service; a consultative and cost-effective approach.

What if a product already has CE marking?
The UK continues to accept CE marking for a year after the introduction of UKCA marking; up until 1st January, 2022, when CE marking will cease to be valid. It should be noted that CE marking will still be required for products and machinery sold to the European Union (EU) market.

How will UKCA marking be used?
In the majority of cases, UKCA marking is applied onto a product or product packaging. It might also be placed inside a product manual.

How do you apply a UKCA mark?


When applying a UKCA mark:
Only the manufacturer or an authorised representative may place a UKCA mark on a product
Once attached, the UKCA mark represents your acceptance of full responsibility for a product's conformity with requirements in relevant legislation
The mark must only be used to show product conformity with relevant legislation in the UK
No markings or sign which could misrepresent the meaning of the UKCA marking - or its visibility and legibility - may be placed on a product
The UKCA mark shouldn't be placed on products if there is no specific legal requirement to do so
Rules for using the UKCA image
When using the UKCA image for your UKCA mark, the following rules apply:
If you enlarge or shrink the size of the mark, the letters which form the mark must still be in proportion to the official version below
The UKCA mark must be at least 5mm high, unless otherwise specified in relevant legislation
The UKCA mark should be easily visible and readable
From 1st January, 2023, the UKCA mark should be permanently attached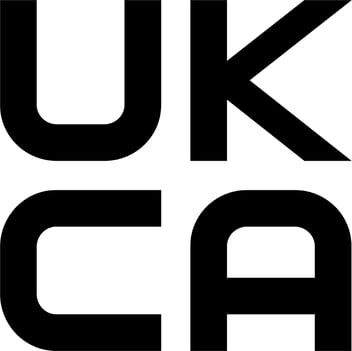 What documentation is needed?
UKCA certification requires a series of technical documentation. This Technical File includes record keeping, which should demonstrate that a product conforms with the requirements of the regulations relevant to it. These records include information such as how a product is designed and manufactured; how a product has been shown to conform to relevant requirements; and a UK Declaration of Conformity.
Declaration of Conformity
Most products that bear a UKCA mark will need an accompanying UK Declaration of Conformity. This document can be drawn up by the manufacturer, or an authorised representative such as a UK approved body when permitted. A UK Declaration of Conformity should include:
Information about the manufacturer, product and conformity assessment body
Your name and signature
Name and full business address of manufacturer or authorised representative
Product serial number, model or type
Details of the body that conducted the conformity assessment procedure (if relevant)
The date of the declaration being issued
Any supplementary information needed
A declaration of product conformity with relevant statutory requirements
A statement that you take full responsibility for the compliance of the product
Details of the legislation that the product complies with, including all relevant UK legislation and UK designated standards
Get in touch – speak to us about your UK product marking requirements. Call +44 (0)117 938 0600
Which product areas are covered?
UKCA marking applies to a wide range of product areas including, but not exclusive to, manufactured goods such as:
Aerosols
ATEX
Eco-design
Electromagnetic compatibility
Gas appliances
Low voltage electrical equipment
Lifts
Machinery
Measuring instruments
Non-automatic weighing instruments
Pressure equipment
Radio equipment
Recreational craft and personal watercraft
Restriction of hazardous substances
Simple pressure vessels
Toy safety
Products with special rules
Some products covered by the UKCA marking have their own special rules. These include:
Which engineering standards apply to UKCA?
UKCA marking currently requires the same engineering standards which apply to CE marking. These will continue to apply until we are notified of any changes by the UK Government.
CE marking will continue
IES, will support testing and assessments for UKCA marking, just as we will continue to support CE marking.
Achieve your UK and EU product marking. Find out how IES can help you meet the requirements of the Low Voltage Directive, Machinery Directive, and EMC Directive. Call us on +44 (0)117 938 0600 or use the contact form