Executive Summary
Nottingham Trent University's (NTU) School of Science and Technology purchased a rare and highly desirable laser system – but at 4500kg in weight and standing 2m high it was never going to be an easy installation. That's why they called on IES.
The Project
This was an important acquisition for NTU. The University's Dr Demos Koutsogeorgis is well known for his work and contribution in the field of laser processing, with a special interest in thin film technology, laser processing, luminescent devices, and plasmonics, using extremely high powered lasers to create novel, useful materials. This new laser would help demonstrate the viability of volume manufacturing. The challenge was how to move the laser from its existing location to Dr Koutsogeorgis' laboratory.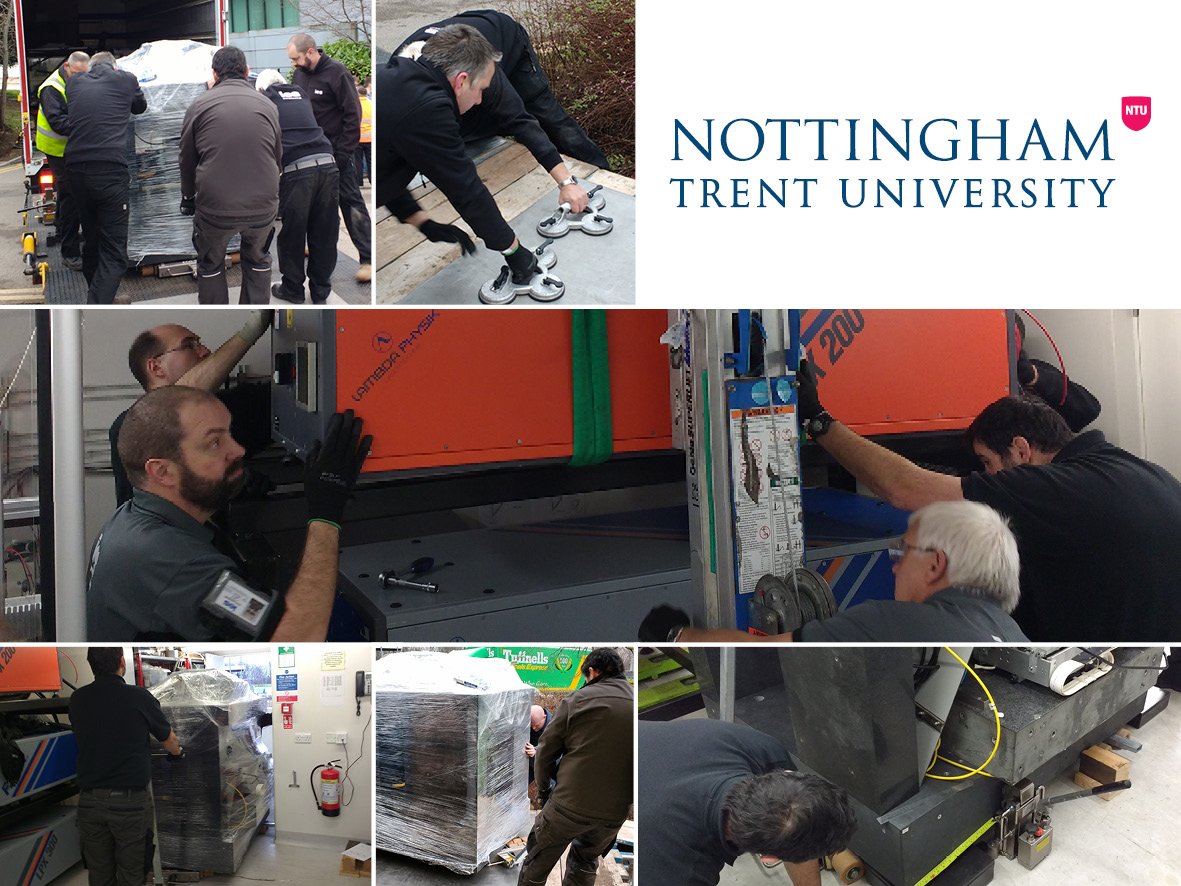 The Challenge
This project presented IES with a number of concurrent challenges. The laser was both very heavy and very delicate. It weighed 4500kgs standing 2m in height, yet had a footprint only 1m by 1.2m, on a solid granite plinth. At the same time its components were both very delicate and very vulnerable, making the whole machine very difficult to manoeuvre, especially given the very limited access. There was no margin for error.
The challenge continued at NTU. There was no level access to the destination laboratory and the lab itself wasn't originally designed with this type of machine in mind. Access was only possible over an uneven patio surrounded by foliage. It was going to be an interesting job.
IES Field Service Engineers offer great depth of knowledge and experience. Read more about our engineering support service.
The Story
Working with NTU, a level platform outside the point of access to the laser's new home was created. A specialist delivery vehicle was used and the gap between the road and the platform bridged using the delivery truck's long tailed lift, allowing IES to offload the laser without the need for major ground works. Once in the building manoeuvrability in terms of both access and space was very limited, not least because it was critical that the laser was placed in a specific position to allow the correct laser alignment to be achieved. Just a few millimetres out and the installation could have led to a major fault.
Why IES?
IES is one of the very few UK companies that can offer the machinery movement expertise and experience necessary to complete a project of this nature successfully, having worked with a number of universities on similar projects in the past. In fact, the company had completed a laboratory move for Dr Koutsogeorgis and NTU 10 years ago, which had gone exceptionally well. In turn NTU, were referred to IES through word of mouth and recommendation from other laboratories.
The Outcome
Meticulous planning, repeated site visits, detailed measurement and a clear vision all added up to a major project being completed in a single day with minimum disruption.
Dr Demos Koutsogeorgis, Associate Professor of Photonic Technologies at Nottingham Trent University, said: "It has been a pleasure and great success to engage IES in delivering a difficult, delicate and certainly very heavy job for us. It was smooth, straight forward and problem free."
Tell us your machinery movement requirements. Call IES today on +44 (0)117 938 0600 or send an enquiry via the contact form.