When it comes to moving machinery in hi-tech sectors such as semiconductor, print and pharmaceutical, there is little margin for error. And before a machine gets on the road, there are plenty of decisions to make.
Decommissioning equipment correctly is a huge part of a machine move, so we are going to talk through what decommissioning is, how the process works, essential considerations for decommissioning planning, and some potentially costly mistakes to avoid.
What is machinery decommissioning?
Disassembling, deinstalling, dismantling, shutdown – these are all processes that can be referred to by decommissioning. To avoid confusion, it is better to understand decommissioning as a broad umbrella term.
In this article, we will examine the various processes which make up the decommissioning phase.
IES provides a genuine end-to-end service for machinery movement. Discuss your requirements on +44 (0)117 938 0600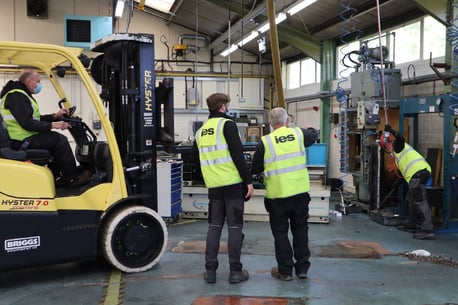 Shutdown including power isolation
You wouldn't walk into somebody's factory and turn the machine off, because you may not be familiar with the customer's facilities layout. That is typically the customer's scope, because they know their own facilities. There could be gas lines or water lines running hundreds of yards, so experienced machine movement providers work with a factory facility department and allow them to take the lead in removing the facilities.
Occasionally we ask the customer to leave certain facilities on the machine in order for us to decommission it. For example, there may be a robot that needs to be positioned in a certain way so it is safe to remove from the enclosure. After this is done, the power can be turned off.
Once any tasks which require facilities are completed and software has been backed up, the machine can be shut down and disconnected. A detailed checklist is then dated and signed off by the customer.
Disassembly for machinery decommissioning
Machinery installations often come in modules, so in many cases you can't move a complete machine in one. Typically, enclosures are removed first, revealing the main modules of the machine. The machine is disassembled and dewired, module by module. Freestanding modules can then be secured.
Modules could have moving parts on them, which need to be tied up to negate any movement.
'Less is more' in decommissioning planning
The less you have to remove from the machine or the module, the better. Because then, the easier it is to put back together again at the destination site, and there is less chance of loose parts being lost or broken in transit.
When considering what needs to be dismantled in order to move the machine safely, it is also essential to take into account your objective: Is the machine relocating internally? Are you simply taking it out for scrap? Are you selling it? Is it being put into storage? Any of those factors will influence how you dismantle or disassemble, and the method statement which is produced during the planning stage.
Four Countries, Four Languages and Demanding Timescales - Read the story of our complex factory relocation for SPX APV
The importance of experienced electrical engineers
There are many reasons to choose experienced machine movers such as IES to decommission your equipment; from the assurance of impeccable safety procedures to the best technical expertise and on-site capabilities. Inexperienced movers might take everything off a piece of equipment during decommissioning, which can make it very difficult to reassemble. Experienced factory decommissioning services know exactly how much to remove, and what to leave.
Common sense prevails. If you are moving a machine in the same factory, you try to leave it together as much as possible. It might be just 10 yards in a straight line. In that case, you try and lift as much as possible safely, to give yourself as little a job as possible putting it back together. But that is a luxury position. Usually, it has to go out of a door somewhere, or even abroad.
Consider if you can lift the modules without packing them (you wouldn't need to crate all the modules if staying inside), or if they need to go on a base. It is often easier to move a module secured to a wooden base around on a forklift. A wooden base might be enough without crating if the machine is just going down the road. Inexperienced machinery movement providers can lack the expertise to make these decisions.
Decommissioning semiconductor equipment
Decontamination is a critical part of decommissioning ion implanters in the semiconductor industry. This involves the removal of toxic chemical residue, which includes dangerous chemicals such as arsenic, phosphorus and boron. Every toxin present will be listed for risk assessment prior to decommissioning.
Wearing hazmat suits and breathing apparatus, a decontamination team will check that the toxic lines have been purged before the cleaning process begins.
We ask the customer to leave on the exhaust or extract when cleaning ion implanters during decontamination, in order to provide maximum air filtration.
Swab testing around the chamber concludes the decontamination process, with samples being sent for lab analysis to confirm the removal of all toxin residue.
The correct moving methods for machinery decommissioning
The characteristics of a machine are integral to the method chosen for moving it. If it's a simple machine tool you might only need a lorry with a crane on it. A complex tool going into a semiconductor fab is an entirely different matter. Some of the tools are temperature controlled, so have to be kept at a constant temperature in transit. This is by no means commonplace, but can be done, typically in a special transport container
The more experience a machine movement provider has, the better they can judge what is required. A machine moving company without working experience of a machine should always contact the OEM and talk to them to understand the requirements.
IES has been providing a global machinery movement service since 1991. Trust our technical and mechanical experts to get machine moves right. Call IES today on +44 (0)117 938 0600 or use the contact form