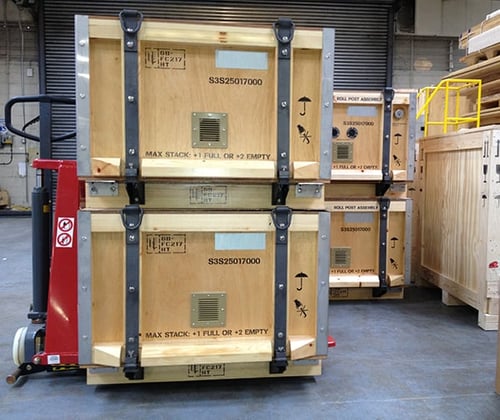 IES is one of the only export packing providers in the UK to be a Military Packager Accreditation Scheme (MPAS) certified contractor.
We have been manufacturing and refurbishing containers to defence standards since 2014, and our location in the South West of England means we are perfectly placed to provide defence standard packaging for items being delivered to the Ministry of Defence.
To discuss a specific military packaging assignment with IES, call us on +44 117 463 5025. Alternatively, find the information you need from the Frequently Asked Questions below:
What is the purpose of the MPAS?
The MPAS is set up by the Ministry of Defence to ensure that the design and production of military level packaging are compliant with relevant defence standards, meeting requirements for handling, transportation and storage in the military supply chain.
Only MPAS-accredited companies are permitted to submit a Service Packaging Instruction Sheet (SPIS), which includes guidelines on how to clean, maintain and pack Ministry of Defence items.
What are the different levels of military packaging under MPAS?
There are three levels; J, N and P.
J - for items which may be stored anywhere in the world, in any climatic condition, for up to two years.
N - for items which could also be stored anywhere in the world, in a frost-free building and dry conditions, for up to five years.
P - very similar to commercial packaging, and is designated to items which are stored for up to five years in normal storage conditions.
What does MPAS packaging require?
The MPAS standard is set out in 'The Ministry of Defence Standard 81-041'. It is made up of six parts:
Part 1 – Introduction to Defence Packaging Requirements
Part 2 – Design
Part 3 – Environmental Testing
Part 4 – Service Packing Instruction Sheet (SPIS)
Part 5 – Production Processes
Part 6 – Package Markings
MPAS standard packaging must meet the requirements of Defence Standard 81-041. Other packaging requirements specified by the Ministry of Defence include; ensuring the availability of equipment and spares, which should be ready and in good condition for use when needed; the economic design of packaging; and the guarantee of packaging with a higher performance level (military packaging levels J, N & P), to cope adequately with relevant severities such as movement, handling, storage, and distribution.
· Read about the IES range of ISPM15-compliant wooden crates here, suitable for export packing and storage.
As a manufacturer, what do I need to provide to my MPAS contractor?
As a manufacturer your most important role can be offering accurate information. Among the key details you may be required to pass on to the packaging provider are:
An NSN number – a 13-digit, unique identification number allocated to every item which the Ministry of Defence uses
The name and description of the item which is going to be packaged
Which department of the Ministry of Defence (Army, Navy or RAF) is responsible
The manufacturer's part number
Size and weight of the items
Primary Package Quantity (PPQ)
Whether your item will be kept in storage, and for how long
Your items' fragility factor
Your items' level of resistance to g-force
Your items' centre of gravity (this can be essential for safe lifting and loading during transportation)


Can a military packaging company handle large or complex items?
That will depend on the service scope of a particular military packaging provider. IES clients benefit from an end-to-end military packaging solution. Thanks to our Machinery Movement department, we can call upon experienced engineers who are specialised in moving large, heavy and complex machinery.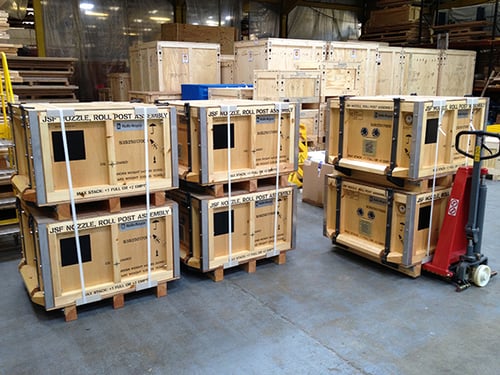 How much does military packaging cost?
Costs will vary according to the characteristics of the items and the MPAS level (J, N and P) of packaging required. In some cases, the cost of materials needed to comply with defence standards can be higher than materials used for commercial packaging. At IES, we are able to pass on the cost benefits which come with our large database of approved suppliers to our military packaging customers.
Are containers designed for military packaging reusable?
Ministry of Defence guidelines (Defence Standard 81-041 Part 1, Section 5.5 b) dictate that packaging should be designed to permit its reuse and/or recovery when possible, as this minimises the impact of packaging waste on the environment. However, in the case of some items, it might not be possible to reuse packaging.
Does military packaging require handles or lifting aids?
Whether or not military packaging requires handles or lifting aids will be decided by the designer, and will ultimately be determined by the nature of the item(s). In some cases, items will be too heavy to lift manually and will require appropriate handling equipment for lifting.
Do military packaging labels require protection?
Labelling must comply with the requirements of Defence Standard 81-041 (Part 6). Exterior paper labels should be protected by either a strip of tape with pressure-sensitive adhesive which is waterproof and transparent, or a coating of adhesive emulsion and polyvinyl acetate. The Defence Standard includes more detailed guidelines for these materials (in Def Stan 75-3 and Def Stan 80-132, respectively).
My military packaging provider has been unable to meet my requirements on time, can IES help?
At IES, we are accustomed to working within tight deadlines. There are many examples of us completing a packaging job in a short space of time, for a client who has been let down by another provider.
How can I discuss military packaging requirements with IES?
For any MPAS-related questions, or to discuss an assignment, call today on +44 (0)117 456 2188, or read more information on our MPAS-approved packaging service