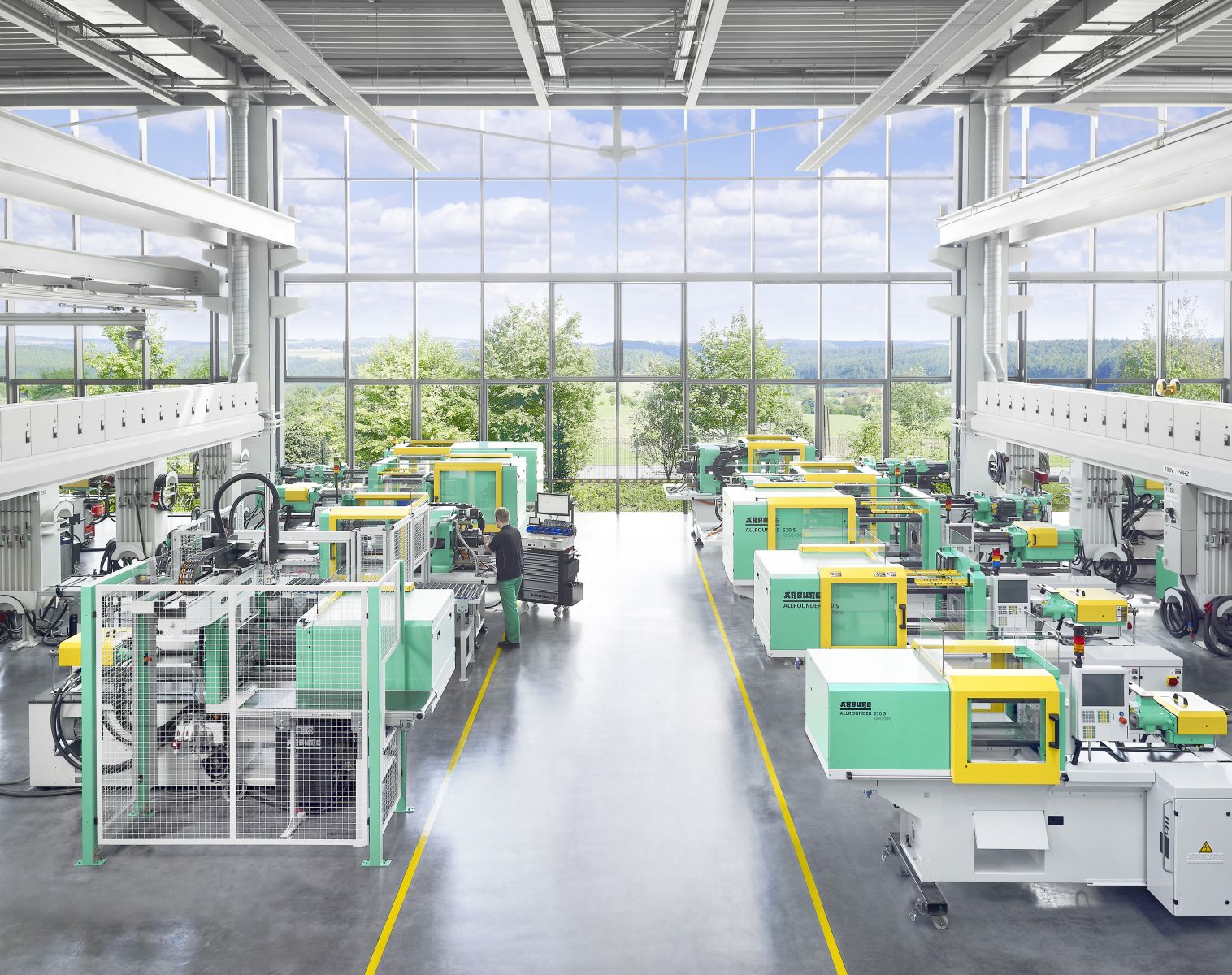 There are many reasons why businesses might want to relocate a factory.
You might be consolidating your operations, expanding or downsizing. Or perhaps you're relocating to be closer to customers and/or suppliers. Either way, you can comfortably streamline the process with the help of an experienced team of relocation engineers.
When assessing a factory site prior to relocation, a number of surveys will need to be carried out to ascertain important information that will help the relocation run smoothly and successfully. A site survey is the foundation for any relocation plan.
Here, we'll explore the individual elements of an initial factory site survey prior to relocation, underlining not only why they are each so important, but what the survey itself will look like so you are adequately prepared for the kind of intricate details your relocation contractors might require.
You'll need to conduct multiple surveys for each site. The idea is to build up a detailed view of the physical spaces, including any limitations that could lead to complications during decommissioning and relocation of the original site, through to the reinstallation and recommissioning at the new site. Both full site surveys will include a range of risk assessments for all work activities, including hazard identification.
Health and safety should, of course, be a top priority when relocating a factory, but generally a Risk Assessment and Method Statement (RAMS) will be generated once the work has been agreed.
What does a factory relocation site survey include?
The scope of work
Very simply, a brief description of what the work entails. You don't need dimensions or technical information, necessarily, just an overview so that contractors know what they're dealing with. This can also include more general business information - site addresses, nature of business and size of company.
Customer responsibilities
Which elements of the work fall to the contractor or third party, and what will you, the customer, be responsible for? Everyone needs to know the parameters of their own work for things to run smoothly.
Site information
The site information section of the survey asks a number of important questions regarding the suitability of the site for relocation and whether or not those undertaking the machinery decommissioning and recommissioning require any additional information or permits in order to carry out the project.
We suggest a table with a list of questions, departmental (or personal) responsibilities, and a space for comments.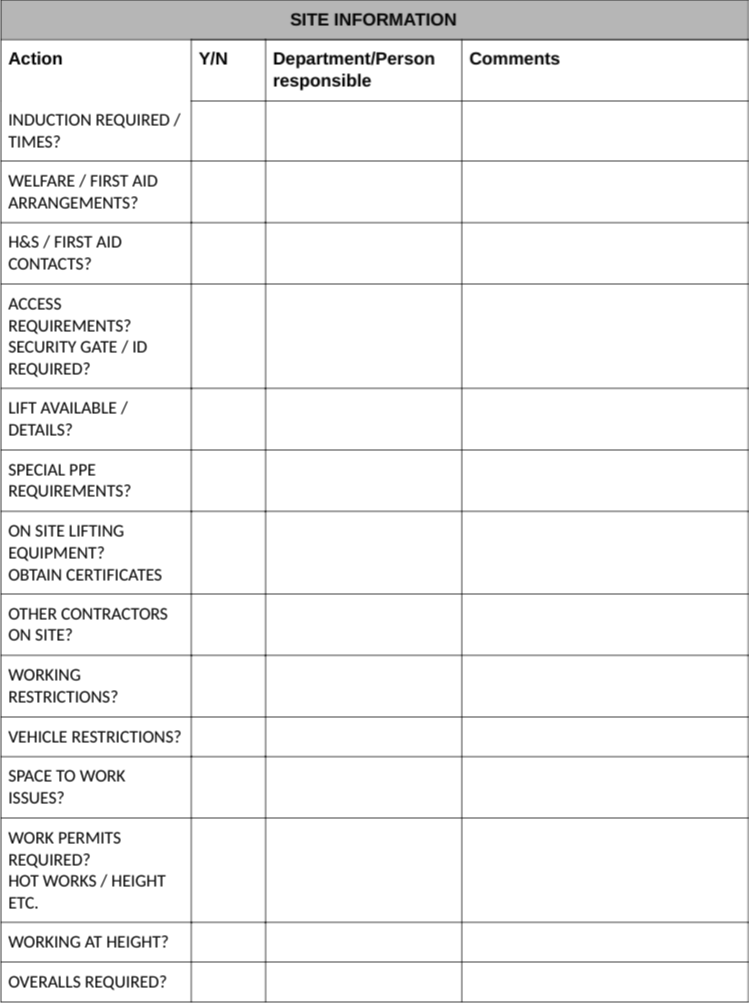 Equipment location
A detailed equipment review and condition assessment are required prior to relocation planning. As the average factory relocation will involve the movement of hundreds or thousands of tonnes of equipment, there is a lot for surveyors to consider before undergoing relocation. The survey will help the team formulate a plan and prioritise the order in which they move each item.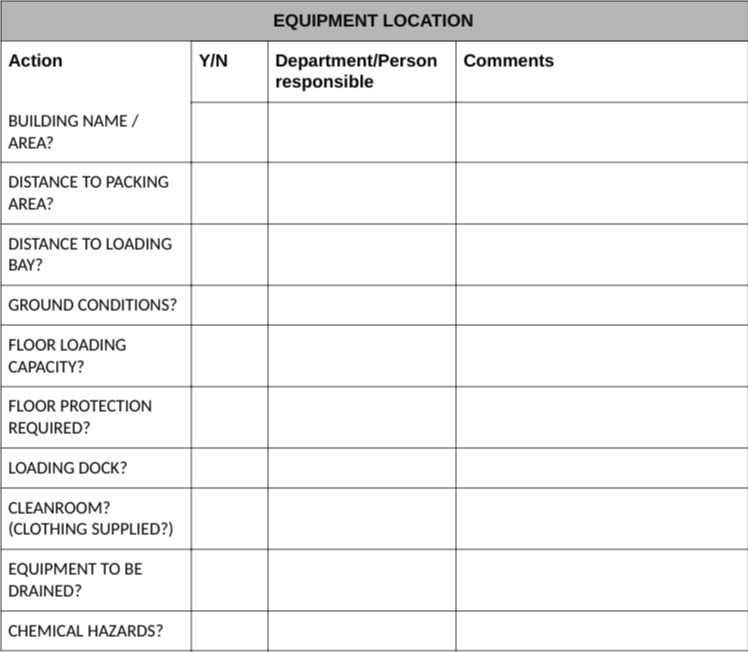 Plant requirements
Finally, this section refers to the equipment or machinery - for example forklifts, cranes etc. - needed to move the equipment safely and securely.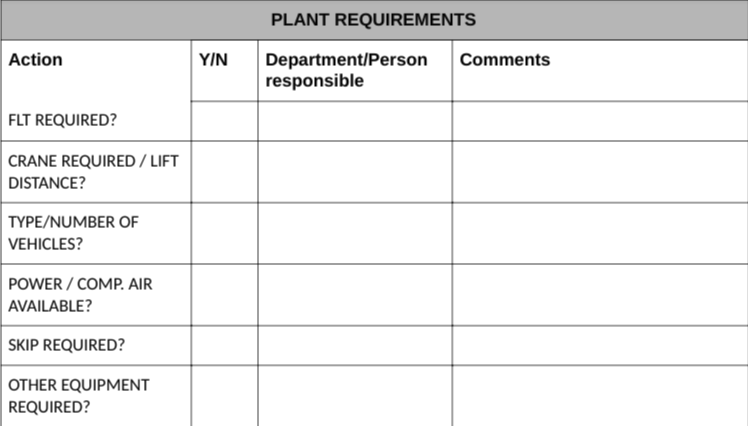 The surveyors will also inquire about any potential chemical hazards, asking for the requisite MSDS (material safety data sheets) where available. They will also take down any additional notes that they feel will be relevant to the project.
Machine details
Crucially, contractors will need to know as much detail as possible about what they're expected to move. The more detail here the better, but certainly the dimensions, weight and whether they need to be decommissioned will have a bearing on overall cost, as well as the time it takes to relocate.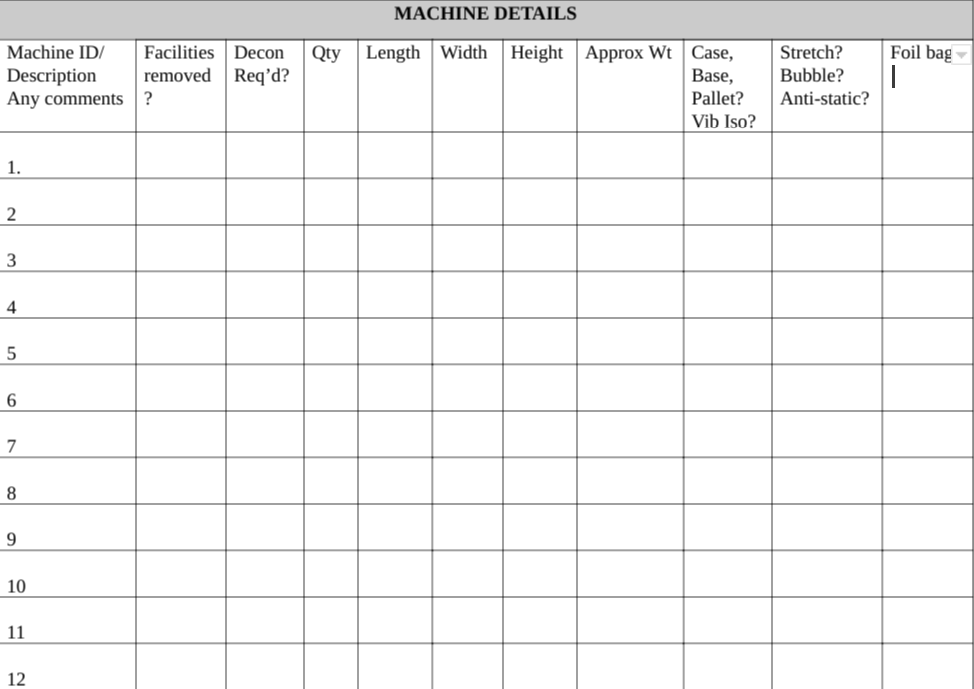 Sharpen that axe
If you want to run a smooth factory relocation, planning is everything. The old adage states that if you have six hours to chop a tree, you should spend the first five sharpening the axe. This is a perfect analogy for factory relocation, which can run like clockwork as long as all the pieces are in place and every piece knows exactly where it's supposed to be and when it's supposed to be there.
IES has planned and executed factory relocations for some of the biggest names in tech, engineering, pharma, aerospace and more. Discover the stories behind IES engineering projects in our case studies section
Picture credit
Featured image via Wikimedia Commons