Are you planning to move a piece of hi-tech equipment, a complete production line, or an entire factory? There is plenty of planning required for seamless machine moves, and one element which shouldn't be overlooked is machinery movement insurance.
Why is comprehensive machinery insurance so important? What should machine relocation insurance cover? And what can go wrong when machinery movement isn't properly covered? Those are just some of the topics we will explore in this article…
Ensure your hi-tech machine move is fully covered. Read more about our machinery movement service
Don't let insurance fall through the cracks
If you are a manufacturer with machine or tool removal requirements, you may not be fully aware of what your existing insurance policies cover, or what policy cover and limits are being offered to you by your machine movers.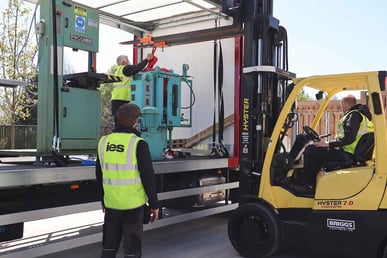 As part of your machinery movement solution, you might be provided with marine insurance that will cover the transportation to the destination site. But did you know that the offloading and final positioning of the machine may not be covered by marine insurance? Similarly, public liability insurance offered by machine move services will cover damage to your building or other property should an accident occur, but it will not cover damage to the actual machine being moved. Then there is your contents insurance – this type of cover is not typically active until a machine has been sited, potentially leaving you exposed during transportation and final positioning.
How does IES install machinery? Here are the key elements of our machine installation process
What should machinery movement insurance cover?
To mitigate risks for a machine move and give yourself peace of mind, you need adequate machinery movement cover. Whether you are moving a machine within the same factory or transporting it halfway across the world – you should work with a machine movement provider who can offer you a policy that covers you every inch of the way.
Similar to other types of insurance, premiums should be worked out based on the valuation of the equipment being moved. This makes providing a correct valuation of equipment to your machinery movers vital.
When valuing the equipment, considerations should be made to the basis of the valuation. It must be decided whether to insure for new/purchase value, replacement value, or perhaps fair market value. It is critical that the correct valuation is used.
Another element to consider is the excess. A high excess could reduce the premium but increase the potential risk and outlay if an issue were to occur.
At IES, our machinery movement insurance policies cover every stage of a move – from pick up, to offloading, transportation and positioning. The cover we arrange for machine transportation is set up in conjunction with our global marine policy. If your equipment is moving within the same site, we can provide the applicable insurance elements you need for that particular project.
IES is a machine relocation provider to the semiconductor, pharmaceutical and print industries. Call us on +44 (0)117 938 0600
Machinery movement insurance: What can go wrong?
The best machinery moving companies will communicate clearly with your team on insurance matters, asking you to provide information that is key to arranging the right cover. First on this list is the type of equipment and its value. Failure to provide the correct valuation to the insurer can lead to many complications were damage to occur during the equipment move. Assessing the value of older equipment can be tricky, but as a rule of thumb, a valuation should always be based on its replacement market value at the time.
Understanding the insurance gaps in your machine moving plans is important. Things can go awry if a claim arises and you are mistaken on the type of cover you have in place; the type of cover that your service provider is offering; or have not declared the correct material circumstances or valuations for the equipment being moved. You may have one insurance element – such as marine insurance, public liability insurance or content insurance – in place, but not a policy that covers every aspect of the move and consequently, you may leave your company exposed to a substantial loss.
Machine moving plans can also go awry if you are mistaken on the type of cover your service provider is offering. If you have one insurance element – such as marine insurance, public liability insurance or content insurance – but not a policy that covers every aspect of the move, you are leaving your company exposed.
Ensure your machine move is covered
Don't leave anything to chance. Your machinery movers should communicate your machinery movement insurance policy clearly with you. If you aren't sure about the extent of your cover, ask your machinery movement provider specifically about insurance and how to make sure every part of the move is accounted for in the policy.
Between you and your machinery movement provider, each element of the move can be assessed to ensure your insurance policy conditions and limits are not breached.
IES has been relocating hi-tech machinery since 1991. Discuss your machinery movement requirements today. Call us on +44 (0)117 938 0600 or use the contact form