We have decided to roll out the IES apprenticeship scheme, recruiting for two new roles that offer an experienced-based route into engineering. The Operations Assistant and Export Packer and Case Maker positions are now live, and will allow us to continue identifying the best young talent.
At IES, we believe in apprenticeships. Since the organisation was founded in 1991, we have offered a diverse range of training programmes for young people. Some of our most experienced engineers are testament to the fact that a university degree isn't always a prerequisite for success in engineering.
Apprentices study for vocational qualifications while accruing invaluable hands-on experience that can only be gained in the field. At IES, our apprentices are well-supported internally and have many routes for progression within the organisation, with the opportunity to travel. The world is, quite literally, at their feet.
An IES star in the making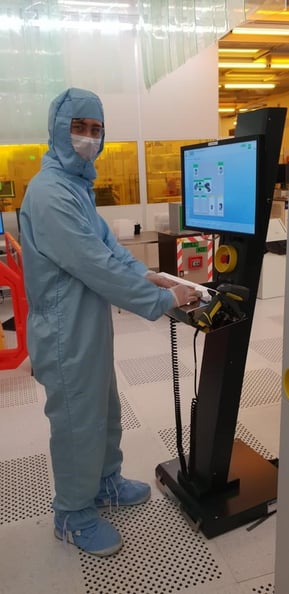 The recent success of our Engineering Apprentices has convinced us that we are on the right track. One of these rising stars is Harri Green, who has been combining his training at IES with studies at BEMA College. When IES News last caught up with Apprentice Harri, he had just completed five pieces of work towards his EAL Level 2 Diploma in Advanced Manufacturing Engineering, and was attending college one day a week as one of ten apprentices from different companies. So over a year later, how is Harri developing? What is he learning? And where might his experience lead him in the future?
Harri updated us: "Now I'm in my Level 3 Diploma in Advanced Manufacturing Engineering (Development Knowledge). I attend the college once a week on Thursday, completing that course. But also, I completed a Level 3 Engineering and Technology Frameworks Course."
For apprentices, a thirst for knowledge is complemented well by an appetite for travel. Life on the road is something Harri has become accustomed to during his time under the watchful guidance of IES mentor, Barry Tomkins, an experienced engineer.
Harri explained: "On a Thursday, I will be at college, and on a Monday, Tuesday or Wednesday, I'll be on a job somewhere around the UK. Last week I was working at the University of London, and then the week before I was in Southampton working on a job there. On Friday, I normally work from home. It's actually quite an eye-opening experience when you're trying to get somewhere. When I went to London, I'd never actually been on the train on my own!"
Keep up to date with the latest opportunities at IES in our Job Vacancies section
A 'hands-on education'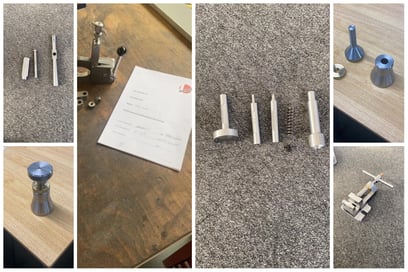 Working alongside Barry and other highly experienced members of the IES team - such as semiconductor equipment specialist, Brian Fletcher – gives Harri access to a mine of knowledge and expertise. Experiences such as stepping inside a cleanroom in a semiconductor fab for the first time are almost rites of passage for an up and coming engineer.

Harri recalls: "Walking into the cleanroom after putting on all the equipment is quite a weird experience. The lighting is a bit different and everyone is head to toe in suits. They looked like astronauts! But after a while working, you get used to it."

A 'leap of faith' or natural progression?
Harri's current role as an Apprentice Installation Engineer demands his focus, and he currently isn't looking too far into the future in terms of his career goals. Harri expects to take up a full-time role at IES in 2023, and given his rapid rate of development, it will not come too soon for the promising employee.

He says: "I'm learning a lot for future jobs. Such as how to complete certain operations, the equipment we use, and the tools that we're working on. It's really educational."

Thumbs-up from Barry

Barry Tomkins has seen first-hand how Harri has developed. He said of the apprentice's progress: "Harri has proven to be a model apprentice after only a relatively short time working with IES. His work ethic qualities make him stand out from the crowd when it comes to housekeeping (5S), report writing and attention to detail. I cannot stress the importance of taking notes when on a learning exercise with one of our more senior engineers, and Harri excels at this too.

"Doing an apprenticeship rather than going to university takes grit, determination and strength of mind. Harri didn't follow the crowd when it came to making the decision on his further education by taking on role of an engineering apprentice. It takes quite a lot of guts to do that and make it happen and Harri certainly has that."

Growing our apprenticeship scheme

Apprenticeship schemes continue to offer an important middle ground between higher education and employment. Building on the success of Harri and our other apprentices, we are excited to expand the IES apprenticeship scheme and nurture more young talent. Watch this space for more IES apprenticeship openings across the organisation.
Are you a young person who enjoys learning new things and solving problems? Find details of our current apprenticeship opportunities below:

Export Packing and Case Making Apprentice –
https://www.findapprenticeship.service.gov.uk/apprenticeship/-675892
Operations Assistant Apprentice -
https://www.findapprenticeship.service.gov.uk/apprenticeship/-675892