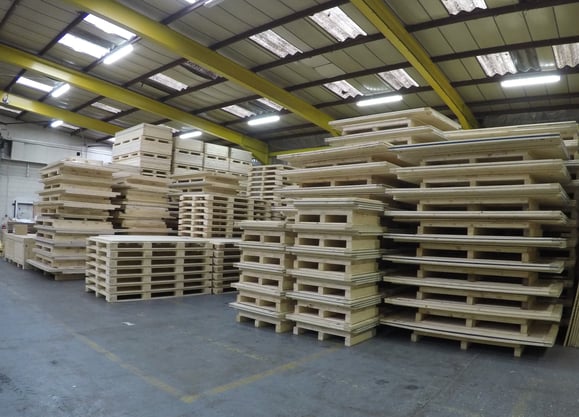 Getting equipment from one location to another is rarely a simple task when you're transporting large, heavy, cumbersome and often deceptively delicate hi-tech factory machinery. With so much at stake and so many variables to consider, every link of the chain counts. Between decommissioning, transportation and recommissioning, however, there is one vital stage of the relocation process that often gets overlooked - packing.
IES has three decades of experience in packing and shipping factories, ranging from entire facilities right down to single pieces of hi-tech machinery. We have also been manufacturing bespoke cases since the turn of the century, designing unique packaging to exact specifications and ensuring goods are 100 per cent safe and secure during transit - whether moving down the road or to the other side of the world.
As part of our ongoing series preparing clients for the complicated intricacies of factory relocation, we caught up with IES's business development manager and shipping expert, Chris Malpas. Chris has been working with IES for many years now and his experience has provided him with a unique insight into what constitutes best practice when packing factory equipment for transport and shipping.
Why is packing so crucial?
With factory relocations, in which machinery can be worth upwards of £1M, the stakes are high and avoiding damage is a must. The ultimate goal of any factory relocation is to make sure the equipment arrives at its destination in exactly the same condition it was in when it left the original site.
Machinery damaged en route is costly, both in terms of material cost, labour, and the delays to manufacturing while the machine is out of order. Careful organisation, bespoke packaging and palletisation is a must when dealing with any relocation job.
Key packing considerations
There are a number of options when it comes to transporting hi-tech machinery for a factory relocation. There's the basic industrial stretch and bubble wrap service for small items and shorter journeys, right up to a bespoke full timber solution, packed safely for air, sea and road transit.
The solution has to fit the job, so there are a few factors to consider when choosing the best solution:
Distance and destination
There are occasions when relocating a factory within the UK on which we've used very sparse packing. As long as we can make sure the equipment is properly secured, if it's not travelling very far, that might be all that is required. If you're shipping it overseas, meanwhile, and the equipment will spend any time on the water, we look not only to create a secure wooden storage solution, but also to form a barrier between the equipment and its wooden casing using foil moisture barrier bags - protecting the items from any potential water damage.
Vibration
Machinery for making semiconductor wafers is calibrated with exact precision. The last thing you need is bumpy roads or air turbulence to affect it. In this instance, using a standard pallet could result in irreparable damage so we'd recommend mounting anti-vibration bases either on the crates or on the equipment itself. These bases are designed to isolate and absorb the motion of the land, sea and sky, so the equipment remains unaffected.
Size
Remember - the size of the packaging will always be larger than the size of the equipment itself. If you have something that's tall but not very wide, for example, you should look at increasing the width of the crate. This might seem like empty space, but it accounts for the possibility of anything toppling over mid-transit. You also need to make sure you're not creating a packaging solution that isn't going to fit into the designated transport - whether it's a trailer or a container. Always consider the transport and the destination before sizing your packing solutions.
Weight
It's obviously important for the outer packaging to be able to support the weight of your equipment. However, you also need to make allowances for top-heavy items. It might be necessary, for example, to create an internal framework within a shipping crate to support any extra weight and make sure everything is being adequately supported.
Partners
You can spend all of the time and resources in the world making sure the packing is perfect at your end, but if you're working with inexperienced hauling partners, it will always result in poor service. Before you sign on the dotted line with any hauliers, make sure they have documented experience in moving delicate and valuable equipment. Once you know what they can give you and they know what you expect from them, everything will run smoothly, every time. Before you've built these relationships, however, you'll need to do your research, so make sure any partners you consider have relevant case studies prepared.
Language
If you're moving equipment from one country to another you have to make sure they have a decent grasp of the common language. Factory moves are time and product-sensitive. You don't want any important information being lost in translation.
Efficient factory relocation relies on a cohesive team effort: In this article we ask Who's Who in Your Factory Relocation Project?
Common packing mistakes
In our 30 years of experience in helping clients with huge factory moves, there are a few problems that regularly rear their heads:
Space and storage
One thing many clients don't take into account during the packing stage is just how much physical room is required. Remember, you not only have to organise enough space in which to securely pack your items, but holding space to store your crates before shipping, as it's rarely practical to load straight to transport. Note that it might be necessary to use an offsite packing area if there is nowhere on site that can comfortably accommodate your needs.
Access
The importance of making sure that vehicles can access shipping crates is another thing that often gets overlooked. When organising your packing for transit, it's imperative that you ensure there is suitable access for a vehicle with a forklift or tail lift, or even for a specialist vehicle if the size and weight of the equipment demand it.
Survey
Packing considerations are ultimately site-dependent. There are hundreds of scenarios you might need to prepare for, so it's absolutely vital that you've carried out a thorough, reliable and complete site survey beforehand in order to assess how, when and where the equipment will be packed and what potential issues might arise. Failing to prepare is preparing to fail.
Budget
There is obviously a cost element to effectively and securely creating a packaging and shipping plan and a lot of that comes down to the budget. Working within the constraints of this budget can prove challenging. If clients don't designate enough of their import/export budget to packaging, they might end up regretting that decision when their equipment reaches its destination in a sorry state. Bespoke packaging may seem like a substantial cost, but the cost of parts, labour and time is far greater, particularly when parts need to be replaced due to damages incurred during transit.
Final destination
Great packaging is not a product, it's insurance. It takes preparation (of budget, survey, access), consideration (of space, storage, weight, size and transport) and, ideally, consultation with a specialist.
Much like insurance, you generally won't fully appreciate its value. If something goes wrong, however, it's worth its weight in... well, hi-tech machinery.
IES has planned and executed countless international factory relocations for some of the biggest names in engineering, technology and pharmaceuticals. Find out more about our Factory Relocation service