IES provided an export packing service for the shipment of a Bio-Processor from the UK to Slovakia. The project - which was completed in just a day at IES's Bristol headquarters – represents the growing global demand for solutions that can help companies meet sustainability targets.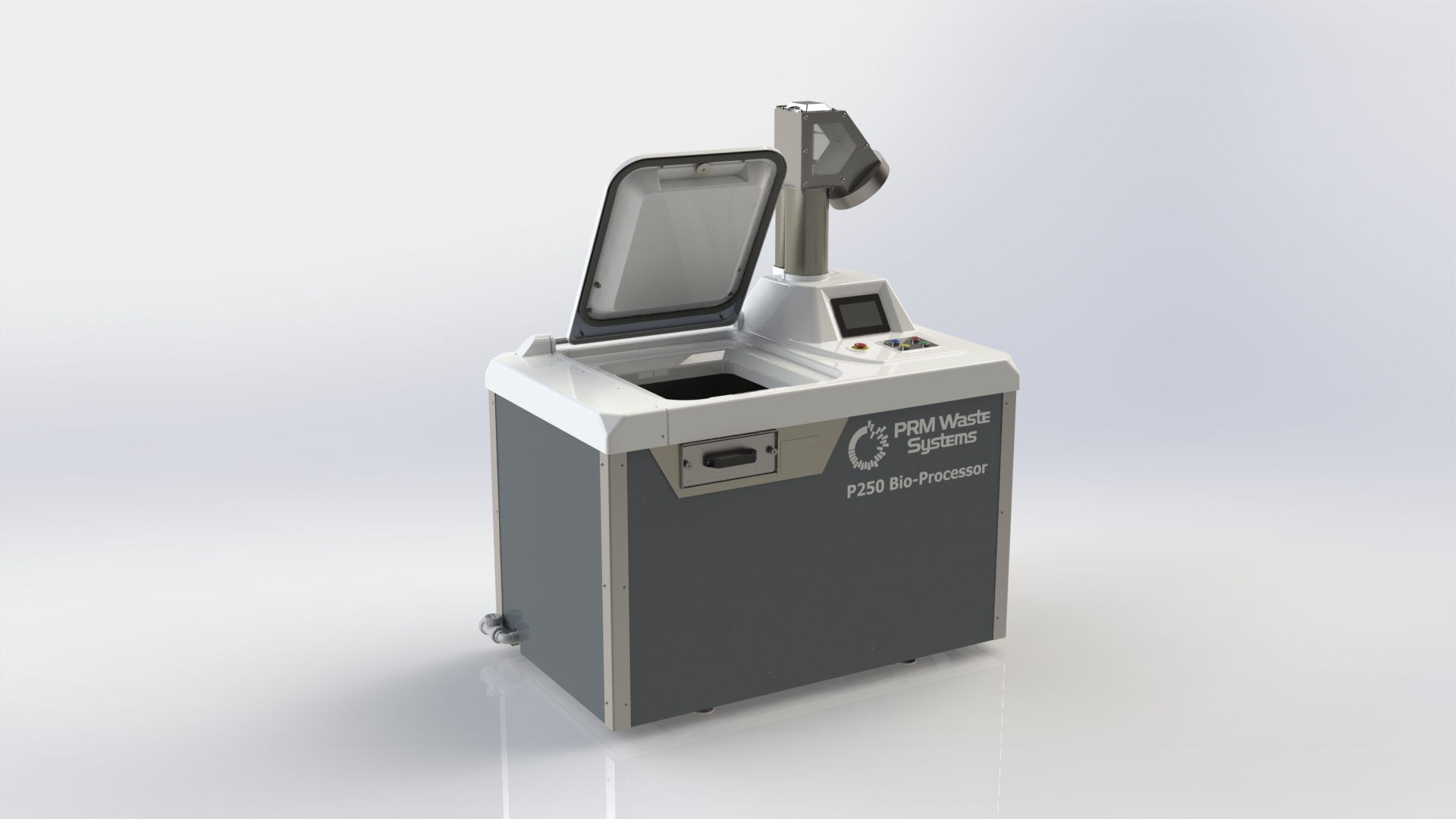 Sustainability is a commodity. Not only does it help to save the planet, but it can also cut costs.
PRM Waste Systems are at the forefront of today's 'Green Revolution'. This IES client - based in Wellington, Somerset - represents international waste equipment manufactures and manufactures their own products to help organisations meet sustainability targets, reducing overheads in the process.
Get in touch: Call IES today about export packing on +44 (0)117 938 0600
IES first partnered with PRM Waste Systems in 2017, when we provided CE marking services for a Bio-Processor that turns waste into fertilisers or biofuel. We supported PRM Waste Systems in compiling the Technical File and self-certifying the Bio-Processor for CE compliance.
PRM Waste Systems' P-Series of Bio-Processors is attracting increasing attention from companies focused on meeting the requirements of ISO 14000, the international standard relating to environmental management. Simple to use and supportive of remote monitoring, the P250, P500 and P1000 break down food waste aerobically using oxygen and a special microbe blend, converting them into a reduced-volume, low-odour substrate.
PRM Waste Systems' business has grown as attitudes towards the importance of sustainability and recycling have changed. Four years after the CE marking project, we were called in to work on another project relating to PRM Waste Systems Bio-Processors, but this time, a different IES service was required…
How are manufacturers tackling sustainability? Download our 2021 Sustainability Report here

Slovakian send-off

PRM Waste Systems had just taken their first order for the UK-manufactured P250 PRM Bio-Processor from Slovakia. This was the first export by the company, representing a massive step forward for the business.
While the order was an indication that ongoing challenges relating to Brexit and the COVID-19 pandemic are by no means insurmountable, the job was not done yet: It was vital that the P250 reached the customer in immaculate condition and in good time. IES were called in to manage and execute the export packing of the machine, which is valued at around £20,000.
Let's throw a spotlight on the challenges this project posed, and the solutions which IES put in place.

Handle with care!

In the simplest terms, PRM Waste Systems needed an experienced team to pack their P250 Bio-Processor as safely as possible.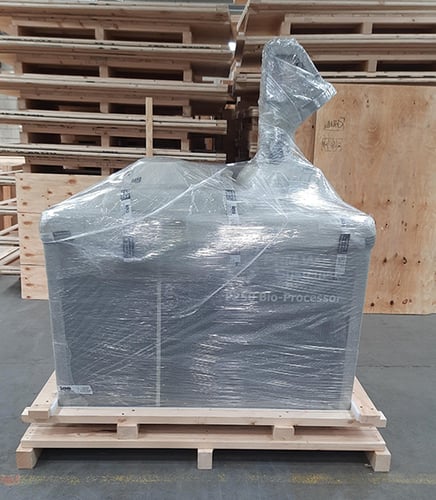 Several delicate and sensitive parts of the P250 meant that careful packing and transportation was required. These included a plastic lid which could be damaged on impact, and a number of internal sensors and measurement devices that could be susceptible to damage if handled in the wrong way.
There was also a last-minute change request from PRM Waste Systems, whose haulier stated they could not take consignments any higher than 220cm.
Aside from performing the function of protecting the Bio-Processor, the crate needed to be compliant with ISPM 15, the wood packaging regulation for international trade.

Offloaded, packed, and sent

In IES, PRM Waste Systems could rely on a partner with a wealth of experience in packing items that pose challenges in terms of size and fragility for export.
IES would receive the P250 at IES, off-load, complete the bespoke packing, and reload the crate for its onward journey, providing all necessary materials and labour.
The P250 arrived at IES on an open-top trailer. The machine had become dusty after its journey. To ensure the machine arrived in the best condition possible, IES wiped down and cleaned the machine before packing.
To address the sensitivity of the P250's parts, IES designed a packing solution that included foam lining, internal bracing, and bearers and crusher bars at the top of the crate to prevent damage in the scenario that an item was placed on top of it in transit.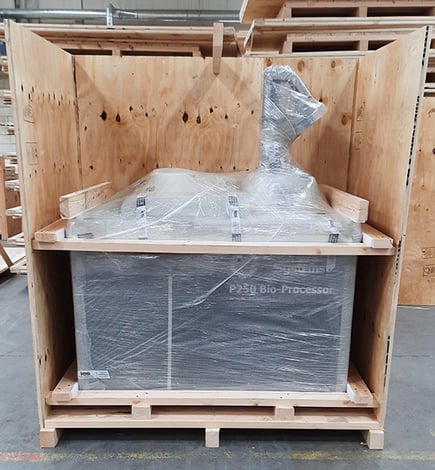 IES can provide a vacuum-packed foil bag for sea freight shipments in order to prevent moisture ingress, but as this order was shipped via European road transport, this measure wasn't necessary.
To accommodate the size limitation imposed by the haulier, IES adapted the crate design and managed to reduce it down to 215cm. This was achieved by reducing the bearer height down, whilst not compromising the integral structure of the crate.
IES completed this export packing project in one day, allowing PRM Waste Systems to send the items for shipping to their client in Slovakia as quickly as possible.


The first export of many?

PRM Waste Systems have enjoyed good growth as a company, with new agents onboard and expansion of their product range. They have provided their game-changing Bio-Processors to customers such as Tresco in the Isles of Scilly. Tresco is a small island which is now reaping the benefits of not having to export its food waste, as it was forced to previously. PRM Waste Systems have also taken an order from the Channel Island of Jersey.
PRM Waste Systems hope the order from Slovakia is the first of many opportunities abroad, and have recently taken a second international order from 'across the pond'. They were satisfied with the export packing solutions supplied by IES, and the speed with which they were carried out.
Helen Moore, Director at PRM Waste Systems, said: "Very impressed at how sturdy the crate looks and please pass on our thanks to your staff for turning our job around in one day. Having just received a new order for a machine going to USA, we will be back to you again soon."
IES and PRM Waste Systems look set to develop their partnership, as PRM Waste Systems meets the demand for sustainability solutions around the globe.
What are your export packing requirements? Contact us today on +44 (0)117 938 0600 or use the contact form.