From its humble beginnings as an automotive engineering consultancy almost 40 years ago, AB Dynamics have become one of the world's leading suppliers of automotive test systems, counting the world's 25 biggest car makers among their customers.
In 2017, AB Dynamics completed the build of a 9 million, state-of-the-art 39,000-square foot manufacturing facility and headquarters in Middleton Drive, Bradford- on-Avon. But with headcount doubling in four years and business continuing to grow, the company soon needed more space and developed an Engineering Design Centre, adjacent to its existing building.
Consisting of 15 machines, as well as some ancillary items, the move to the new Engineering Design Centre was a critical facility move for the business, and there could be no machine downtime. The machines would be forming the hub for all prototype design and production of AB Dynamics' world-leading robotics, ADAS targets, and automotive testing and measurement hardware.
AB Dynamics needed machinery movers they could trust. Over the last 15 years, IES have provided AB Dynamics with specialist Export Packing services and during that time, became familiar with IES's machinery move services.
COVID Challenges
AB Dynamics could continue business-critical production throughout the lockdowns, with COVID risk assessments, rigorous hygiene measures, and other precautions being introduced very early in the pandemic.
However, with fewer people allowed on site, and health and safety a top priority, the internal fit-out of the new location had to be postponed. Therefore, the relocation was delayed from December 2020 until April 2021, and operations continued within the old toolroom.
The Move
Moving machinery is not an easy feat. Especially when the machines are used for very accurate applications, one wrong move and the damage to production could be costly, in both downtime and repairs. Throw in a total weight of 20-tonnes for the machines alone, and that can change the technical complexity of the move even more.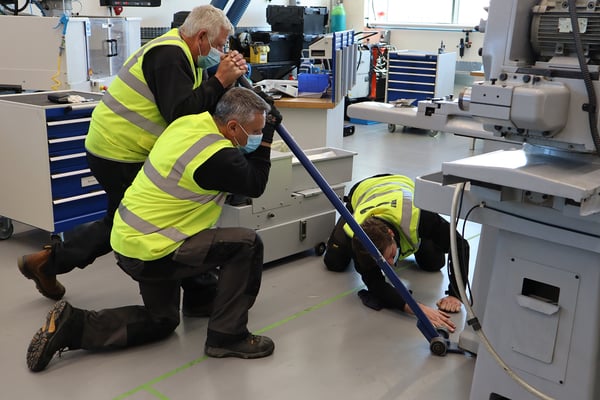 But that did not faze IES, who have extensive experience in factory relocations and moving equipment, including regularly packing and transporting AB Dynamics' 17-tonne Suspension Parameter Measurement Machines (SPMM) from the factory floor to customers.
The SPMM is a vehicle Kinematics and Compliance (K&C) test machine. Providing a reliable and accurate simulation of on-road vehicle behaviour with the highest possible measurement precision, it is the development tool of choice for suspension engineers and leading vehicle manufacturers.
The machines for this phase of the move were disconnected with assistance from an IES electrician and relocated to the new Engineering Design Centre. This included 2- and 3-axis CNC mills, a CNC Turning Centre, a fume extraction system and both CNC and manual Lathes. As well as various grinders, bandsaws, blast cabinets, and a CMM measuring machine.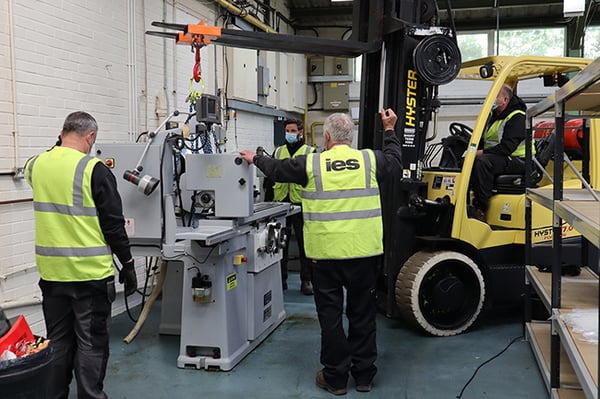 The move also included CNC Machining Centres weighing 4.2-tonnes and 2.6-tonnes, taking up 13ft x 9ft and 5ft x 9ft of operational floor space, respectively. With these large pieces of equipment essential to all prototype and development work for all AB Dynamics' projects, it was critical for the machinery to be moved safely into their new positions.
Another challenge faced by IES was the tight turning space on the main road leading onto a steep slope at the Holt Road site entrance.
With this found during a pre-move site inspection, IES were able to prepare with an experienced driver who could manoeuvre skilfully around tight spaces, as well as supply vehicles that could not only handle the weight of the machines but avoid grounding out when attempting the slope. Forklifts and lifting equipment were also supplied to enable the machines to be raised onto timber bearers within the flatbed and 18-tonne curtain side trucks.
IES's careful and thorough project management throughout the five-day move ensured all AB Dynamics' equipment was disconnected, relocated, and reinstalled safely and efficiently. With careful planning and sequencing of the moves of various machinery, ample room was available for manoeuvring into the final positions in the new Engineering Design Centre.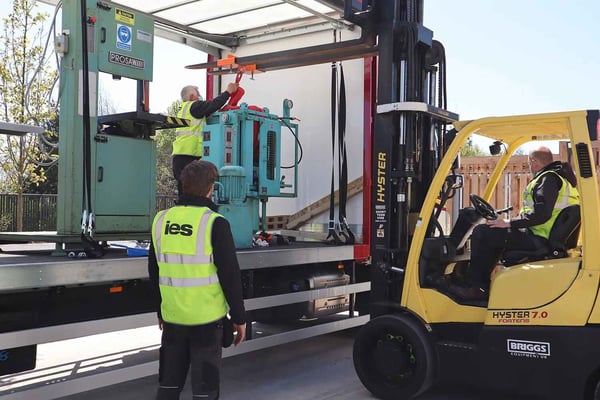 Andy Newman, UK Facilities Maintenance Manager at AB Dynamics, said: "Fifteen years working with the same partner means they understand our business and what we need. And when you have grown as quickly as we have, this shorthand understanding enables machinery moves to be carried out with the minimum of fuss."
"They know AB Dynamics, and we've always been happy with their work. If we have any issues, they are always there to support which is exactly what we look for in a partner. It has been a significant benefit for our business to have this level of continuity and partnership with IES."
Christian Malpas, Business Development Manager at IES, commented: "Our aim is always to ensure that our clients can focus on their operations with the firm knowledge and confidence that IES will deliver. AB Dynamics' machinery is very specialist and critical to their operations, so we have learnt over the last 15 years how best to approach our projects to minimise the impact equipment relocations have on them."
With IES, AB Dynamics' equipment stayed in the hands of a single specialist supplier. This approach helps mitigate risk to the business whilst providing a cost-effective solution. It also ensures efficient and cohesive communications throughout the project, which is essential when carrying out high-value, delicate equipment moves.
Expert Machine Relocation Advice
Are you planning the movement of any machinery or equipment? Call us on +44 117 938 0600 to learn more about how we can help.