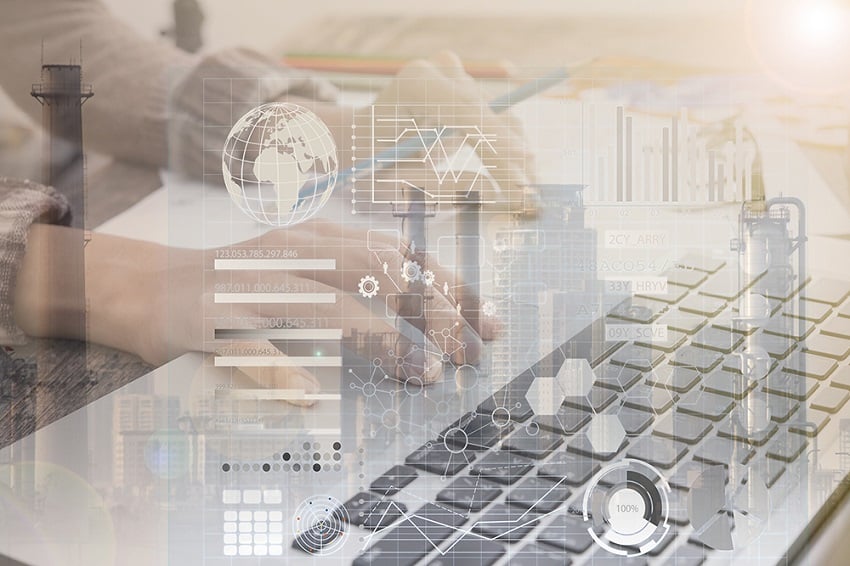 Next-generation tech makes great headlines. And there's rarely a week that goes past without talk of AI, the IoT, advanced robotics, automation and more. What many people don't realise is that these headlines are far from sci-fi. Technology is already drastically changing the way factories and manufacturers operate.
Innovative technologies are increasing productivity and efficiency, and allowing systems and platforms to transcend previous limitations in reliability, speed and performance. Here are 5 that will make you say 'wow'...
Rigetti Computing
Location: Fremont, California
Specialism: Quantum computing
From planning space missions to scientific research to disease diagnosis, quantum computing is expected to break boundaries and revolutionise the way we live - and Rigetti could be the company that gets there first. Unlike their giant rivals - IBM, Google, Microsoft - they are solely focused on quantum computing. As founder Chad Rigetti says: "We're pursuing this long-term objective with the urgency and product clarity of a startup. That's something that large corporations aren't culturally matched to do."
With 80 employees and a limited budget, the company takes a two-pronged, strategic approach in their quest to be at the forefront of quantum computing. The development of their own cloud platform, Forest, gives developers hands-on experience at writing code on 30-qubit simulated quantum computers. At the same time, their fab lab is designed to quickly (and we mean quickly) create and re-create quantum circuit prototypes.
While some research teams take a couple of months to design and create 3D-integrated quantum circuits, Rigetti's Fab-1 facility can do the same in just two weeks. But they're not just focussed on the tech.
They may be setting themselves up as technological pioneers, but Rigetti are careful to stay strategic when it comes to planning for the future landscape of computing. Their Junior Quantum Engineer program is helping them recruit some of the brightest young minds in physics, computer science and engineering, and teaching them how to build full-stack quantum computers.
This talent pipeline could prove to be an invaluable asset as quantum computing becomes a reality. As Madhav Thattai, Rigetti's Chief Strategy officer, explains, "When the technology crosses the precipice of being beyond what classical computing can do, it will flip very, very quickly in one generation." Rigetti aren't just planning to get there first - they're planning to stay at the forefront of technological innovation.
Audi
Location: Gyor, Hungary
Specialism: Automotive
Automotive manufacturing isn't what it was twenty years ago. As cars have become more complex in spec and design, many manufacturers have struggled to meet consumer expectations and maintain assembly line efficiency. When Audi saw a drop in the efficiency of their production line, they did something about it.
In 2015, the German automotive brand created 'Smart Factory 2035': a vision of future factories complete with driverless transport systems, 3D printing, augmented reality and modern production stations in place of traditional assembly lines. Four years on, their vision has, at least in part, been realised.
Audi opened a new production plant in Hungary in 2018, featuring all of the above - and more. Looking more like the set of a futuristic sci-fi film than a traditional car plant, the smart factory sees people and robots working together for optimal efficiency. While robots do the screwing and welding, employees are free to focus their time on planning, and e-controlling.
As set out in their vision, modular workstations have taken the place of assembly lines - a method which has improved productivity by 20%. A big data control centre receives real-time information on the progress of each robot, machine and transport system: its precise location, what it's doing, where it's been, and where it's going next.
It's Smart because each driverless vehicle moves from station to station, 'thinking' for itself. For example, if the vehicle needs to go to the next station to get a handbrake fitted but that station is busy, a message is automatically sent to the following station to see if that's available. Once it's finished there, it will again communicate with the handbrake station to check if it's now free.
The use of big data and the IoT has transformed both efficiency and product performance, meaning nothing is left to chance. If there's a functional problem with a piece of machinery or robot, real-time data capture and comparison will find it before any damage is done. Engineers also use augmented reality to virtually plan and check all processes prior to production.
Parts are made using state-of-the-art 3D printing and taken to various workstations by drones, which are currently capable of transporting parts as big as steering wheels. Steering wheels that won't be handled until well after they've left the plant because they drive themselves off once completed.
Audi's smart factory shows how the use of innovative technology systems can transform production line efficiency, saving time and money. And this is just the beginning. With so many of the technologies they've implemented still in their infancy, who knows what they'll achieve by 2035.
Ocado
Location: Andover, UK
Specialism: Online retailer
If anyone needs efficiency and speed in picking and packing, it's the world's largest online-only grocer, Ocado. Their automated, robot-controlled warehouses process 3.5 million items a week, and have reduced errors, increased efficiency and helped them grow their profits.
From the outside, Ocado's Andover warehouse looks the same as any other factory, but looks can be deceptive. The space houses a giant hive-like grid which is navigated entirely by robots. These robots organise the inventory and select the items for customer orders.
In warehouses where people need to find and reach things, products are kept in crates on shelves but in Ocado's warehouse, the crates are stored in huge stacks. This allows for a much more efficient use of space.
The order of the goods is decided using an algorithm designed to keep the most frequently needed items near the top and less common products near the bottom of the stack. The robots glide around on top of these stacks, selecting the required crates and pulling them up. Once they have the right crate, they can either move it to a new location or drop it down a chute, where a human picker can take what they need.
The robots are controlled by a central computer - and they work as a team. Ocado's Chief Technology Officer, Paul Clarke, explains why is this so beneficial: "If you want to pick a typical, 50-item Ocado order, they will help each other. A group of robots can gather together in a huddle, split up, and pick that order in a matter of minutes." In a traditional warehouse, finding the same items would take hours.
Apart from saving space and boosting efficiency, the most impressive thing about the Ocado warehouse model is its simplicity; the tech fits the requirements perfectly.
The grid design is modular and easily scalable, making it easy to sell to other companies, irrespective of the size of their operation. The robots are all identical; there is only one model so if a robot breaks down, another one can do the same job. This lack of robotic diversity also means that as the tech evolves and progresses, they only have one machine to focus on.
Of course, there are still plenty of things robots can't do, like picking up delicate or very small items, but with Ocado's commitment to technological advancement, it probably won't be long before they can.
JD.com
Location: Kunshan, China
Specialism: Online retailer
As China's second largest e-commerce company, it's perhaps unsurprising that JD.com has robots working in its warehouses. However, while many companies use AI and robots, few have replaced humans altogether.
Each JD warehouse is usually staffed by 180 human sorters and pickers, but at their most recently opened facility in Kunshan, there's barely a human in sight - four, to be precise. Instead, robots and automated machines handle 16,000 orders an hour with 99.99% accuracy.
As soon as packages arrive at the warehouse, they begin their journey through a complex network of automated machinery. Image scanners check what's inside and smart logistics work out where the items need to go. The goods are then grouped by region, collected by driverless forklifts and taken to the right truck for delivery. The whole process takes just a few minutes.
CEO of Logistics, Zhenhui Wang, explains why every second counts: "At the rate that e-commerce is growing in China and around the world, robotics and automation will be a necessary solution to meet that explosion in demand. We are investing in this advanced technology, and other automation throughout our supply chain, with an eye on the long-term."
JD have taken the tech outside the factory, too, applying it to other areas of logistics. In addition to their fleet of on-the-ground robotic delivery vehicles, their network of autonomous drones are currently able to make deliveries spanning a 200-mile radius across the Shaanxi province.
Like Ocado, JD don't want to just use the tech that's out there, they want to lead the push towards more automation and AI by investing in tech. The company has set up its own steadily growing R&D centre in Silicon Valley, and in 2017 they opened up a logistics division to focus on how they can use technology to improve all aspects of their business.
Danfoss
Location: Wuqing, China
Specialism: Compressors
Earlier this year, the World Economic Forum recognised Danfoss as a 'manufacturing lighthouse'; a company which has comprehensively adopted Industry 4.0 technologies. According to the World Economic Forum, by deploying digital tools, the company's factory in Wuqing has "improved labour productivity by 30% and decreased customer complaints by 57% within two years".
Inside Danfoss' factory, workers assemble parts for compressors at work stations. The only difference between this and a traditional factory is that the components they need are delivered to them by automated vehicles which drive along the aisles. The human workers then follow step-by-step electronic instructions (which they can access anywhere in the factory), using Bluetooth-connected Smart tools that let them know if the assembly is correct or not. And those aren't the only technologies being used.
Smart sensors, digital traceability and auto-monitoring systems are all helping to cut costs and improve quality.
Chief Engineer Jiangbo Lin explains how 3D printers have changed how they work: "Thanks to our 3D printers, we no longer have to make molds whenever we make small product changes at prototype stage. This typically speeds up development projects by several weeks and saves us money."
Senior director of operations for Danfoss in Wuqing, described their recognition by the World Economic Forum as, "a clear testament to the fact that our digitalisation effort has paid off in terms of productivity, quality improvements and customer satisfaction".
As all these factories show, Industry 4.0 is here to stay. Smart companies use the tech pioneered by others, but the smartest invest in developing unique, industry-specific technology to meet the needs of a changing global economy. Minor tweak to the CTA:
Which factories would make it on to your list? Let us know if we've missed one.
IES supports factories worldwide with moving and installing high technology machinery no matter how technically challenging. Read our case studies to find out how we can help.