Bristolian Russ Shears celebrates his 65th birthday this month – but he has no plans to retire from his incredible 48-year career in the print industry.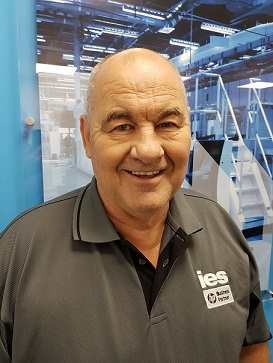 Russ began his working life as an engineering apprentice at printing press manufacturer Strachan Henshaw and worked there for 31 years where he was involved with the build and installation of printing presses across the World. The print industry was very different then, using letter presses before the printed paper was dried using large steam drums. This changed in the 1970s with the introduction of offset printing, which continues to the present day.
Russ then spent a decade working at Komori where he installed print presses for the European market before joining IES in 2009 as Installation Manager. He is very happy working for the company and since joining his globe-trotting has continued, and he has installed printers as far afield as Brazil, Singapore, China, Australia, the USA, and Japan. He is currently working on the installation of industrial digital inkjet print technology across the World on behalf of HP and his expertise and experience is highly valued by their team, with PWP Global Install Manager James Scanlan commenting, "We are very appreciative of all he has contributed to HP's PWP business and all he taught us about installing equipment like this. He truly is a guru in his discipline and a gentleman to work with. I think I speak for all of my team when I say we really appreciate and love working with him. Happy Birthday Russ and here's to your continued support, guidance and leadership on our Install projects."
IES is planning to celebrate Russ' incredible achievement with a small drinks gathering at a local pub. Looking back on his long career to date, Russ commented, "The print industry has changed so much since I started. It is more environmentally-friendly as there is less wastage with digital print, and we also no longer use alcohol to clean print presses. The project on which I am working is however the biggest revolution I have witnessed in the print world, and I look forward to working on it for many years to come!"
IES is a leading, worldwide provider of specialist engineering and logistics services. From single machine installations to entire factory relocation and from manufacturing to high-tech industry, IES provides an unrivalled reputation for quality of service and reliability. Based in Avonmouth it works with a wide range of clients from start-ups to blue chip multinationals, and celebrates its 25th anniversary this year.