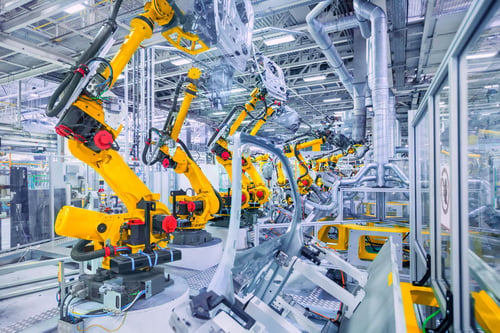 The Machinery Directive – officially named Directive 2006/42/EC of the European Parliament and of the Council of 17 May 2006 on machinery, and amending Directive 95/16/EC – represents enforced regulations in the UK relating to machinery used in the work place, and at home. You can download the full version of the Machinery Directive here – it totals 63 pages. In this guide we outline some of its most important implications.
What does the Machinery Directive cover?
The Machinery Directive encompasses the safety-related elements of machinery, including; mechanical design, electrical design, controls, safety measures, and safety components such as chains and ropes. It also covers the potential for machinery to create hazardous environments.

Within the Machinery Directive is a classification of which products it covers, as well as the essential requirements for the compliance of the products in the context of the Directive. It provides guidance on how a conformity assessment can be carried out to ensure that the requirements are met and that compliance is achieved. The Directive also sets out obligations for the CE Marking of machinery in order to declare its compliance.
Who enforces the Machinery Directive?
In the UK, Machinery Directive regulations are enforced by the Health and Safety Executive when the machinery is used in the workplace. The Trading Standards Service enforces regulations when machinery is used at home.
What are the penalties for non-compliance?
Penalties for non-compliance are designed to be "effective, proportionate and dissuasive", and can include a maximum of two years in prison. Fines imposed can run to thousands of pounds. The Health and Safety Executive has the authority to ask for a machine or component to be permanently replaced and recalled.
How does the Machinery Directive classify machinery?
The Machinery Directive defines the machinery it covers as:
An assembly, fitted with or intended to be fitted with a drive system other than directly applied human or animal effort, consisting of linked parts or components, at least one of which moves, and which are joined together for a specific application.

An assembly referred to in the first indent (above), missing only the components to connect it on site or to sources of energy and motion.

An assembly referred to in the first and second indents (above), ready to be installed and able to function as it stands only if mounted on a means of transport, or installed in a building or a structure.

Assemblies of machinery referred to in the first, second and third indents (above) or partly completed machinery (also a defined term, see below) which, in order to achieve the same end, are arranged and controlled so that they function as an integral whole.

An assembly of linked parts or components, at least one of which moves and which are joined together, intended for lifting loads and whose only power source is directly applied human effort.

Thus products missing only the electric motor, requiring mounting (e.g. a hydraulic lifting arm) onto a vehicle or structure / building), or to be assembled with others are all regarded as machinery in the strict sense.




Other items covered by the Machinery Directive:
There are also other pieces of equipment which are covered by the Machinery Directive. These include; interchangeable equipment, such as machinery which has previously been used for another purpose; safety components, the function of which can be necessary for the safety of the machine; lifting accessories, which can be placed between machinery and a load; chains, ropes and webbing; and removable mechanical transmission devices such as components used to transmit power between two machines.
If you are still unsure whether the Directive applies to your devices, see the entire classification on page 4 (Article 2 – Definitions) of the full Machinery Directive downloadable above.
How to comply with the Machinery Directive
For organisations performing conformity assessments, there are two options permitted by the Machinery Directive.

Self-certification – a manufacturer may perform and document the conformity assessment themselves.

Involvement of a notified body – a manufacturer may employ the services of a third party certification body, known as the 'Notified Body'.

The Machinery Directive specifies a list of 23 machines for which it is mandatory to involve a Notified Body in the conformity assessment (option B above). This list is named Annex IV, and includes:
1. Circular saws and sawing machinery.
2. Hand-fed surface planing machinery for woodworking.
3. Thicknessers for one-side dressing having a built-in mechanical feed device, with manual loading and/or unloading for woodworking.
4. Band-saws with manual loading and/or unloading for working with wood and material.
5. Combined machinery of the types referred to in points 1 to 4 and in point 7 for working with wood and material.
6. Hand-fed tenoning machinery with several tool holders for woodworking.
7. Hand-fed vertical spindle moulding machinery for working with wood and material with similar physical characteristics.
8. Portable chainsaws for woodworking.
9. Presses, including press-brakes, for the cold working of metals, with manual loading and/or unloading, whose movable working parts may have a travel exceeding 6 mm and a speed exceeding 30 mm/s.
10. Injection or compression plastics-moulding machinery with manual loading or unloading.
11. Injection or compression rubber-moulding machinery with manual loading or unloading.
12. Machinery for underground working of the following types such as locomotives, brake-vans and hydraulic-powered roof supports.
13. Manually loaded trucks for the collection of household refuse incorporating a compression mechanism.
14. Removable mechanical transmission devices including their guards.
15. Guards for removable mechanical transmission devices.
16. Vehicle servicing lifts.
17. Devices for the lifting of persons or of persons and goods involving a hazard of falling from a vertical height of more than three metres.
18. Portable cartridge-operated fixing and other impact machinery.
19. Protective devices designed to detect the presence of persons.
20. Power-operated interlocking movable guards designed to be used as safeguards in machinery referred to in points 9, 10 and 11.
21. Logic units to ensure safety functions.
22. Roll-over protective structures.
23. Falling-object protective structures.
For a detailed version of the Annex IV list, see page 45 of the full Machinery Directive downloadable above.
What is the next step?
At IES, we strongly recommend that in order to ensure compliance and safe usage, you seek professional guidance on conformity assessments and the certification of all machinery.
Get In Touch:
IES CE Marking is a world-leading service which ensures Machinery Directive compliance; offering the benefits of cost effective remedial solutions, as well as the capability to survey entire sites and large installations.
Call us today on +44(0)117 456 2188 to discuss your Machinery Directive compliance requirements.