The Electrical Department is one of the lesser known areas of business for IES. Established back in 2004, this much valued department is a distributor of high quality industrial electrical accessories to the UK wholesale market, whilst also supporting IES' engineering projects.
Operating from IES' 30,000sq.ft. warehouse, the Electrical Department has its own dedicated workshop and assembly areas in which the team assembles distribution boards and custom-made products, amongst other things. What this ensures for our clients is exceptional customer care and next day delivery for off-the-shelf items, together with a unique ability to design and manufacture in-house any one-off or special build that may be required.
Product range & service offering:
Our electrical product range is expanding all the time to meet customer's requirements. The current range includes:
Switchgear

Metal enclosures

Distribution units

Cable grips

Plugs and sockets

Interlocked sockets

Caravan hook up units

Special builds



What sort of special builds?
The electrical team have the expertise to design, manufacture, supply and commission bespoke industrial electrical products, such as panels and hook-up units. This in-house capability enables IES to provide solutions and meet complex customer needs. Customers can consult with IES to develop a solution to their complex electrical requirements.
Meet one of Team:
Name: Lucas Wesolowski
Position: Stock controller and production assistant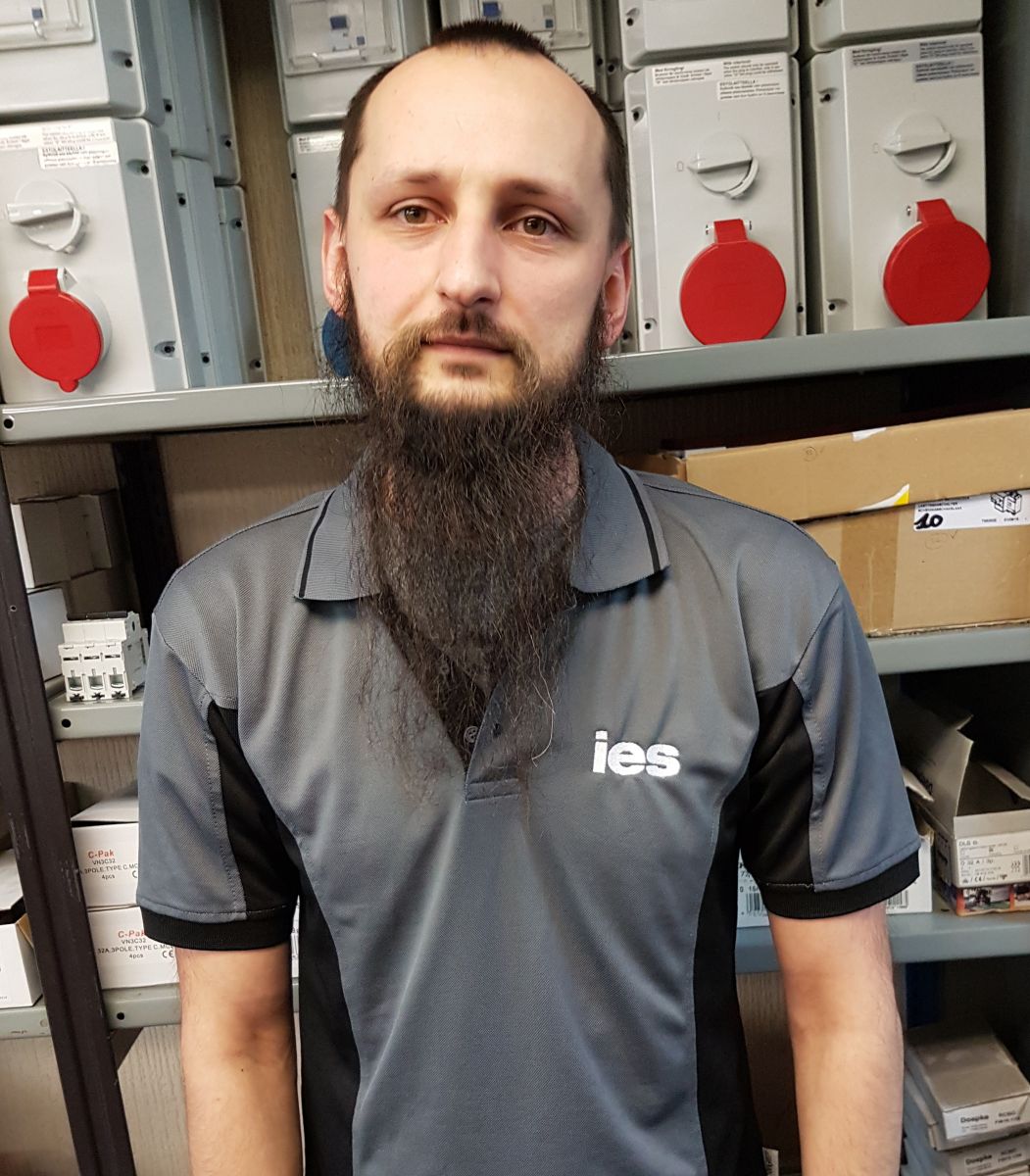 "I've been working with IES for the last 10 years. It is a fast-paced and challenging industry that keeps me busy and on my toes. Speed is a key factor for success. We aim to complete orders for off-the-shelf units the same day for next day delivery. I enjoy working in the warehouse, managing what's a huge inventory of electrical products and services."
A Recent Electrical Project:
Background: A Defence establishment wanted to purchase 3 phase distribution panels that would continue to work in every temperature, terrain and conditions. Unfortunately, there were no off the shelf units available in the market to meet their stringent requirements. IES was contacted by a long-standing wholesale customer with the request that we find a solution.
Our Solution: IES were able to meet all of the technical and build requirements. The panels were installed in air conditioned shipping containers to keep them cool. IES's bespoke solution has proved to be very reliable and cost effective. The containers have been delivered to various bases around the world and our panels are being fully utilised.
What does the future hold for our Electrical Department?
The department continues to grow as it adds new suppliers and product lines

Continued growth results in the opportunity to develop strategic partnerships with major manufacturers

The department's core strength of being able to react fast and remain flexible will remain central in meeting customer needs

Our special builds facility will be expanded, in terms of both capability and capacity, it's this ability that makes us unique.